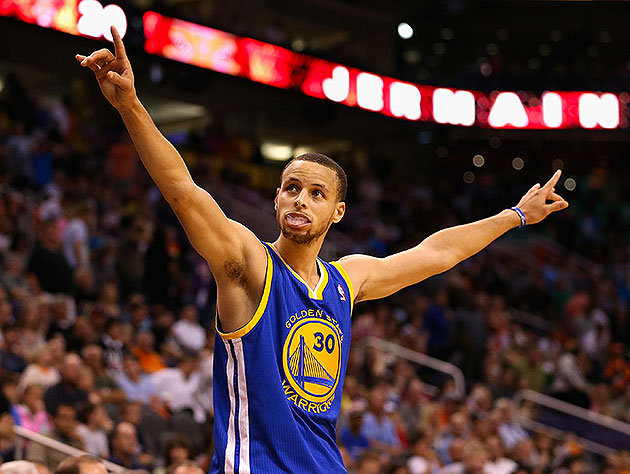 The 2014-15 regular season is just about over in the NBA and goddamn it, it's been a wild ride. There have been unforeseen injuries to superstar players (Paul George, Kevin Durant), absolutely foreseen injuries to former superstar players (Derrick Rose), new stars emerging out of nowhere (Rudy Gobert, Draymond Green, Jimmy Butler), unexpected power shifts (Atlanta, Milwaukee, a mid-season return to form by Cleveland) and yet it's the Golden State Warriors we're going to remember from this season.
The Warriors have six games left to play as of today, and barring an unforeseen disaster, they're going to close the season as the most successful team since the 1995-96 Chicago Bulls (the nefarious 72 wins basketball murder machine). Steph Curry and his Beatles have obliterated whoever tried to be The Rolling Stones, The Who or whatever rock band that got in their way. The NBA Awards should start being handed out at mid-April, at the start of the playoffs, which are a whole new season in itself.
Here are my predictions for the awards. I have left out the Teammate of the Year Award and Sportsman of the Year Award for obvious reasons, but I would give them both to Draymond Green, just as a token of appreciation from the fans. The NBA could use more players like him, balling with the conviction and the purpose of a horny young Jedi knight going clubbing on a Friday night. In order to hand out my awards, I based myself on three things.
Who I want to win: In good spirit of internet discussion in the age of social media, my truth is the truth and therefore it should be the word of law.
Who should realistically win: The NBA is a complex and highly political business, so it's now always the most deserving who wins the award, but there's always a reason why things happen.
The emotional gap: I'm a rational man at heart. What percentage of my choice is emotional bullshit? Who has the best stats? Who wins the confrontations between the two players? Who passes the eye test? Bridging the emotional gap insures that every choice I make it based on some actual stats and observations.
Without further ado…
MOST IMPROVED PLAYER – Rudy Gobert (C) – Utah Jazz
No one has went from 0 to 100 as quickly as The Stifle Tower did in 2014-15. Draymond Green and Jimmy Butler are in the Most Improved Player conversation too, but they were already key cogs in their respective rosters. Gobert was merely an afterthought in the Utah Jazz's lineup before homicidal-looking genius Quin Snyder took over coaching duties.
Snyder really took on himself to put the fear of God in Gobert's heart and teach him some work ethics, but it worked admirably well. Six months later, Gobert is the NBA's premier rim protector, and transformed the Jazz into a defensive powerhouse by his mere presence. The progress Rudy Gobert has showed in 2014-15 is absolutely terrifying and there are reasons to believe he'll just keep getting better under the rule of Quin Snyder.
SIXTH MAN OF THE YEAR – Marreese Speights (C) – Golden Stats Warriors
This category has been a little bit of a mess, in 2014-15. Usual suspects Jamal Crawford and Taj Gibson have missed extended periods of time due to injuries, Manu Ginobili has been good, but not great (would age FINALLY catch up to the Argentinian warlock?) and perennial favorite Isiah Thomas Jr. has been thrown around in Phoenix's lineup before finally getting traded. So, where would you even look to find a worthy candidate to one of the trickiest awards to hand out every year?
Easy, just look at the top of the rankings. Marreese Speights has been a wonderful surprise for the Warriors, this past two seasons, and his pertinence in their lineup seems to be at its peak. Speights plays both center and power forward spots, he might lack a little bit in size, but he makes up for it by his shooting ability, turning the Warriors' second unit into a vicious pick and pop machine with Shaun Livingston and Leandro Barbosa handling the ball. His versatility allows coach Steve Kerr to play him alongside almost any other big on the Warriors.
DEFENSIVE PLAYER OF THE YEAR – Draymond Green (PF) – Golden State Warriors
There has been a lot of Warriors players playing themselves into trophy contention, this year. That's how good they've been. Old school, trash talking dynamo Draymond Green doesn't lead the league in steals or blocks, but his defense has transformed the Warriors into a fierce two way team. His quickness, his unique physique (strong legs, long arms) and his astute reading of the offense have made him the best team defender in the league. Just see for yourself the many ways he can affect a game.
Green is a little bit of an emotional choice for me, but it also adds up because of his undeniable effect on the team's performance. I want Green to win because he's a player who legitimately doesn't give a fuck about individual stats. He's a mature kid, who understand the collaborative nature of basketball and he'll do just about anything in his power in order to help. He's quick, smart and his basketball IQ is off the charts. Sure, the trophy could go to an elite shot blocker like DeAndre Jordan or Rudy Gobert, but these two don't affect games like Draymond Green does on the defensive end.
EXECUTIVE OF THE YEAR – David Griffin (GM) – Cleveland Cavaliers
It doesn't make me happy to make any members of the Cleveland Cavaliers win anything. Since LeBron James left them stranded in the rain in 2010, this team's been taking stupid decision over stupid decision, flushing money away and behaving like a psychotic ex-girlfriend when LeBron started winning championships in Miami. But here it is, LeBron is back, the Cavaliers are a powerhouse in the NBA again and David Griffin had something to do with fixing the leaks in the LeBron designed lineup.
The Cavaliers' backcourt at the beginning of the season consisted of Kyrie Irving and Dion Waiters, two ball-dominant guard who want to shoot as much as possible. Not only Grffin traded Waiters, but what he got in return was J.R Smith, a bone-headed but enthusiastic catch-and-shoot player, Iman Shumpert, a two way swingman and a first round pick. Talk about getting $2,50 on the dollar. A couple days later, Griffin flipped this pick as well as another one (both very protected), to Denver for Timofey Mozgov, the shot altering presence they so desperately needed. In one solid week of work, Griffin patched the holes and turned the Cavaliers into what they shoud've been all along. Very impressive work.
COACH OF THE YEAR – Steve Kerr – Golden State Warriors
Somewhere in the 1990s, Ferrari gave their driver Jean Alesi his walking papers and hired a certain Michael Schumacher to lead their F1 team. The rest is sports history. Switching from Mark Jackson, an emotional leader hell-bent on drawing isolation plays for Stephen Curry to hyper-rational off ball movement enthusiast, underrated play drawer and consensus-builder Steve Kerr reminded me of that move. It supercharged the Warriors from the get-go and through this historical season. There was nothing new under the hood, just a new driver behind the wheel.
As it turned out, the Warriors were a pack of high-IQ players in need of a little guidance and Steve Kerr's Xs and Os were more than a welcome addition to the equation. It turned them into a legitimate championship contender. I don't know why anybody didn't think of Kerr before, who was wasting his talents in a commentator booth (he was good at it, it's just that he was meant for bigger things, you know?) The man played several years under Gregg Popovich and Phil Jackson, who won 11 of the 25 last NBA titles, I'm just surprised it took people so long to connect the dots (self included).
ROOKIE OF THE YEAR – Andrew Wiggins (SF) – Minniesota Timberwolves
This is one of the closest races. Last Friday, Andrew Wiggins and Elfrid Payton faced off and the Orlando Magic rookie point guard looked like the alpha dog, using his Montenegrin golem in order to generate offense and beat the crap out of the poor Minnesota Timberwolves, on both ends of the floor. Wiggins did well, scoring 22, but he looked like a lonely man, going against the funny-haired dude and his army gritty two-way players. In this case, what you see on the stat sheet and what you see in a game are two different things.
If I have Andrew Wiggins winning the rookie of the year award, it's because he's been increasingly better since the opening game's tip-off.  Wiggins broke through whatever seal his college coach Bill Self put over his offensive game and there's no telling what his ceiling as a player might be anymore. He's just going to keep getting better as he gets more mature mentally and physically and as he gels with his teammates. Elfrid Payton had issues with his offensive efficiency during the first few months of the season and despite the fact that he seems to have broken through, his poor shooting skills seem to stand between him and superstardom.
MOST VALUABLE PLAYER – Stephen Curry (PG) – Golden State Warriors
There are many valuable candidates. If supercomputers were voting, leaving every possible emotional bias out, James Harden would be elected MVP. In an age where one-man offenses are slowly disappearing, he's been a very efficient one all season. He proudly took the brunt of the offensive burden on his shoulders for the Houston Rockets and delivered in every possible way, often when he was under pressure. His drives to the baskets have also created a record amount of offense in the league, this season. So objectively, James Harden is the MVP because without him, the Rockets would not be even close to the playoffs.
But it's not going to happen.
Because history is being written, and it's not being written by James Harden, that' why. It's being written by Stephen Curry, the uncontested leader of the Golden State Warriors, ushering the NBA into a new era of team oriented basketball played at a killer pace and with a lot of 3s. He may or may not be a genetic experiment involving his father's DNA and Pistol Pete Maravich's. He's leading the best team in the NBA into a new era and while I believe the Warriors would still be a 50 wins team without him, he's what makes them so special. He's going to be declared MVP because of that.
1st  TEAM ALL-NBA
G – Stephen Curry
G – James Harden
F – LeBron James
F – Anthony Davis
C – Marc Gasol
2nd TEAM ALL-NBA
G – Russell Westbrook
G – Chris Paul
F – LaMarcus Aldridge
F – Blake Griffin
C – Al Horford
3rd TEAM ALL-NBA
G – Kyrie Irving
G – Klay Thompson
F – Pau Gasol
F – Paul Millsap
C – DeMarcus Cousins
The efficiency of Marc Gasol has plummeted since the all-star break, but he's still, by far, the best center in basketball. LeBron James had a two weeks vacation this year, but since he's the only small forward who made an impact on this list and that he's still one of the best scorers in the league was enough to award him a 1st team berth, and honestly, you can scramble Curry, Paul, Harden and Westbrook in the order you want, they would all deserve a 1st team all-NBA berth, but it's unfortunately not going to happen. I could've included Dirk over Millsap on the third team also, but at that point, it seemed like prioritizing the name over the work at this point.
1st TEAM ALL-ROOKIE
G – Elfrid Payton
G – Jordan Clarkson
F – Andrew Wiggins
F – Nikola Mirotic
C – Nerlens Noel
2nd TEAM ALL-ROOKIE
G – Langston Galloway
G – K.J McDaniels
F – Bojan Bogdanovic
F – Mitch McGary
C – Jusuf Nurkic
It's been a poor year for rookies in general. The 2014 crop is very talented, they just haven't been producing. They've had injuries, poor fits in certain lineups and in some cases, they suffered the wrath of a 2013 crop with a chip on their shoulder about being called one of the worst draft of the 21st century. We've had pleasant surprised though like the beastly Jusuf Nurkic or the rugged, undrafted guard from St-Joseph's Langston Galloway. The emergence of Jordan Clarkson in L.A and the disappearance of K.J McDaniels in Houston's lineup lead me to swap them in the 1st and 2nd all-NBA team.
1st TEAM ALL-DEFENSE
G – Tony Allen
G – Jimmy Butler
F – Kawhi Leonard
F – Draymond Green
C – Andrew Bogut
2nd TEAM ALL-DEFENSE
G – Chris Paul
G – Eric Bledsoe
F – LeBron James
F – Tim Duncan
C – Rudy Gobert
There are a lot of centers who would've made that list, notably Hassan Whiteside and DeAndre Jordan, but I had to choose two and I chose the two centers with the best team defense. Bogut and Gobert are also the two most efficient rim protectors in the league. Michael Kidd-Gilchrist could've been on the 2nd all-NBA team, but his defense, while being energetic, is not as fuel efficient as LeBron's or Duncan's.