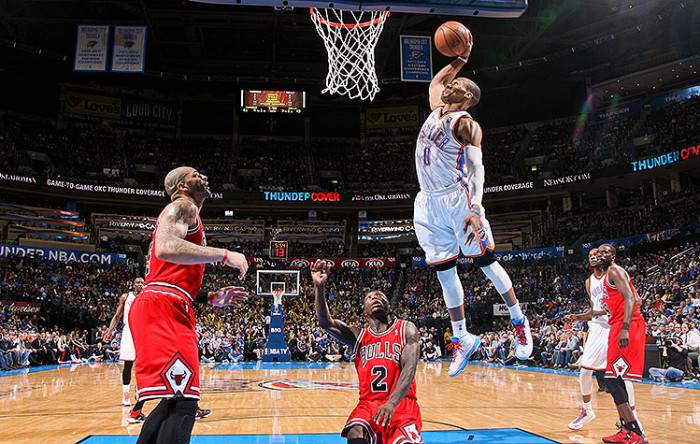 2015-16 Projected Roster:
Starters
PG: Russell Westbrook
SG: Andre Roberson
SF: Kevin Durant
PF: Serge Ibaka
C: Steven Adams

Sixth Man
F-C: Enes Kanter
Bench
PG: D.J Augustin
PG: Cameron Payne
G: Dion Waiters
G-F: Anthony Morrow
SF: Kyle Singler
SF: Steve Novak
F: Josh Huestis
F-C: Mitch McGary
F-C: Nick Collison
Projected Record: 53-29
Yeah, the Thunder are DEFINITELY making the playoffs unless Kevin Durant or Russell Westbrook gets hurt again. Even then I'm pretty sure new coach Billy Donovan is going to will them into a playoff spot. There's a lot of talent on that team, the support cast definitely looks a LOT better than it did last year despite that not every piece looks like it's going to fit together. For example: are they going to start Adams or Kanter? Logic would say Kanter since they paid him 40 acres and a mule, but are they really going to give 30 minutes a game to such a defensive liability? I don't know.
The Thunder are young, dynamic and are going to figure it out. It's the last year of Kevin Durant's contact before he is due for the free agent chase and they are going to go balls to the walls trying to win a championship. They aren't the favorites, but like the Houston Rockets look out for them in your rearview mirror. THE THUNDER'S COMING FOR YOU!