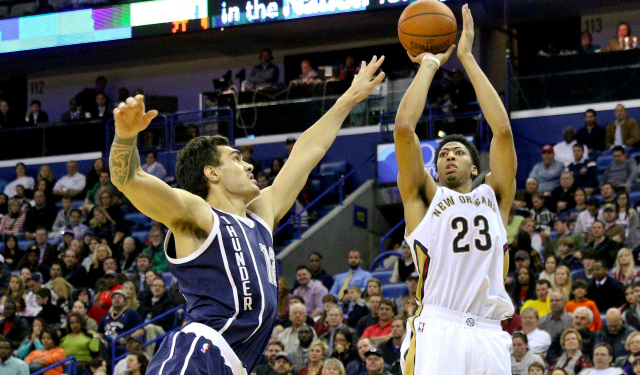 Projected 2015-16 roster:
Starters
PG: Jrue Holiday
SG: Eric Gordon
SF: Tyreke Evans
PF: Anthony Davis
C: Omer Asik
Sixth Man
G-F: Quincy Pondexter
Bench
PG: Norris Cole
G: Nate Robinson
SF: Like Babbitt
SF: Alonzo Gee
PF: Ryan Anderson
F: Dante Cunningham
C: Alexis Ajinca
C: Kendrick Perkins
Projected Records: 38-44
The Pelicans are a great idea that is a complete mess in practice. Why? It's very simple, everybody's injured on their team. Right now, their starting 5 for the season opener is gearing up to be Nate Robinson, Eric Gordo, Alonzo Gee, Ryan Anderson and Anthony Davis because everyone else in their lineup is literally injured.
I think the Pellies are a playoffs team in the ultra-competitive Western Conference when everybody's healthy. People don't remember how good Jrue Holiday is because he hasn't been healthy in a couple years, but that guy is one of the top 7 point guards in the NBA when the injury gods leave him alone. The Pelicans have no bench whatsoever and newly appointed coach Alvin Gentry is going to have a hard time milking whatever he can out of Anthony Davis. They would normally do the playoffs, but unless Eric Gordon transforms into a superstar wingman, it's not going to happen.