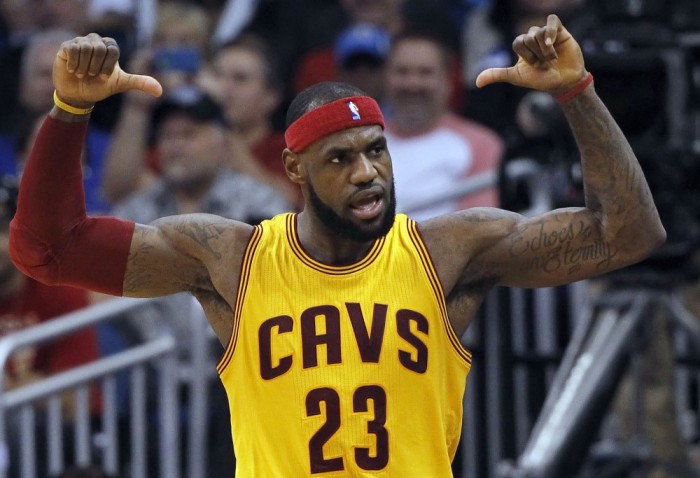 Projected 2015-16 roster
Starters
PG: Kyrie Irving
SG: J.R Smith
SF: LeBron James
PF: Kevin Love
C: Timofey Mozgov
Sixth Man
SG-SF: Iman Shumpert
Bench
PG: Mo Williams
G: Matthew Dellavedova
G-F: Joe Harris
G-F: James Jones
SF: Austin Daye
F: Richard Jefferson
F: Nick Minnerath *
F-C: Anderson Varejao
C: Sasha Kaun
* Tristan Thompson is currently holding out in what count possibly be the riskiest contract dispute for both sides.
Projected Record: 54-28
As much as I hate them with unabashed passion (LeBron notwithstanding, I have this thing with Dan Gilbert and Cleveland sports in general), the Cavaliers were scary good by the end of last year. I'd go as far as calling them great. Savvy general manager David Griffin took a couple of ballsy gambles on players like Timofey Mozgov and J.R Smith and it shored the leaks in the Cavaliers' game quite well. They have suffered a couple of crippling losses in last year's playoffs, but showed heart, grit and benefited from LeBron transforming into the NBA Godzilla we were all afraid he could transform into in order to reach the finals and drag Golden State to a six games series with a ridiculously short lineup.
A unhealthy chunk of their roster is still in the infirmary in the beginning of this year and they are all key cogs: Kyrie Irving, Kevin Love, Iman Shumpert, who am I missing? I'm also expecting J.R Smith to start sucking again this year like he methodically does after every great season he has. The Cavs will have their fair share of problems this year again, but they are my favorites to win the East unless LeBron gets injured. The Cavs will go as far as he can take them. Of course, he has 48,000 worth of NBA time on his body and it's a question of time before gravity takes over, but he is LeBron James and he can pull it off for another year.