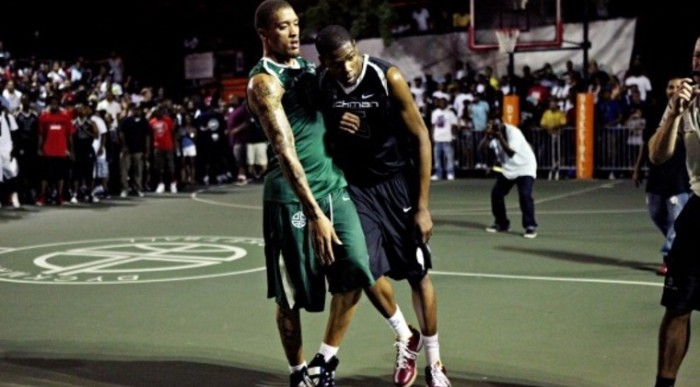 I've been doing the exercise for a couple years now. Before every NBA season, I try to build the best team the salary cap can afford. The rules are simple:
1) Team cohesion has to overrule individual talent. I can't have four ball-dominant guys on the court no matter how talented they are.
2) No more than four rookie contracts for realism's sake.
3) I'm allowed to pick wink-wink contracts for the exercise (as you'll notice further down), but I'm not allowed to sit players who would be starting in today's NBA on the bench. I cannot drastically diminish a player's role.
4) I have to pick 12 players (a conventional game-time lineup)
5) Not more than 3 players from the same team.
6) I cannot go into the luxury tax. This year's hard cap is $70,000,000
It was a lot more difficult than earlier years because lots of guys have gotten paid, this summer, but without further ado, here are the 2015-16 edition of the Montreal Salarymen.
STARTING 5
PG – Stephen Curry, Golden State Warriors – $11,370,786
Arguably the best value contract in the NBA. It's difficult to pass on the MVP at such a ridiculously low price. Curry is on the last year of his contract, but I'm not going to pass on the opportunity. Curry can both create offense for himself and others, he's a crafty ball handler and a leader of men.
SG – Bradley Beal, Washington Wizards – $5,964,675 (rookie contract)
I'm taking a chance here because Beal has been injury prone over the span of his NBA career. He is a terrific athletic specimen though and a catch-and-shoot terror in transition. He would complete Steph Curry's efforts almost as well as Klay Thompson does, but at a fraction of the price.
SF – Giannis Antetokoumnpo, Milwaukee Bucks – $1,953,960 (rookie contract)
Another kid who doesn't need the ball to make his presence felt in a basketball game. The Greek Freak's ceiling is still very much a question mark, but I like what he can do already. He's a strong, athletic finisher and a spectacular two way players. He would get his long limbs in the lane and create some sexy fastbreak offense for my team.
PF – Tim Duncan, San Antonio Spurs – $5,250,000
A wink-wink contract. Timmy is almost 40 years old, but he's been as reliable as ever under a limited minutes regimen. I like Duncan especially as a post defender and as a locker room presence here. Of course, he'd get his touches on offense, too. I'd want his 18 foot banker to clear the lane for Bradley Beal and Giannis Antetokoumnpo's drives to the basket.
C – DeMarcus Cousins, Sacramento Kings – $15,851,950
BOOGIE! Best paid player on the team and yet, still an odd bargain at this price tag. Boogie's a reputable headcase and a liability on defense, but I'm banking on Tim Duncan to talk some sense into him and the crux of his responsibilities would be to run the pick n' roll of death with Curry and beast some poor souls in the post. I have two championship caliber leaders on the team, I have no doubt they can turn Boogie into one, too.
SIXTH MAN
SG, SF – Iman Shumpert, Cleveland Cavaliers $8,229,375
A versatile and energetic swingman who can make plays on defense and play three positions in a pinch. Not the most reliable scorer, but not a fight risk either. Solid team player, too.
BENCH
PG – Ramon Sessions, Washington Wizards – $2,170,465
My favorite substitute ball-handler in the NBA. Sessions can't shoot to save his life, but he won't turn the ball over and will always prioritize easy points over the flashy play. My mind would be at ease with the ball in his hand 12 to 18 minutes a game.
SG – C.J Miles, Indiana Pacers – $4,394,225
Underrated spot up shooter alert. Miles has been a heat seeking missile last year with a team that did a poor job at creating opportunities for him. He's a big guard and instant offense off the bench.
SF – K.J McDaniels, Houston Rockets – $3,189,793
Insane athlete, already a spectacular defender at NBA level and while his shooting skills have yet to be found, he's an interesting player to develop. Who knows what a little love could to do a kid who's been the only one looking out for himself since he got drafted?
PF – Kyle O'Quinn, New York Knicks – $3,750,000
I like the versatility here. O'Quinn is a big, young and strapping front court player who can both play the 4 and the 5. He's got a mid-range jumper that could make life easier for the guards int he lane. He's a mature, savvy player who could galvanize the 2nd unit.
C – Brandan Wright, Memphis Grizzlies – $5,464,000
He's the prototypical substitute center. He lacks maybe 2 inches and 20 lbs to be dominant, but he's crafted a niche for himself as a pick n' roll specialist and a solid post defender. His skill set is more pertinent than ever in today's NBA, which needs quick centers who can run the floor.
PG – Ray McCallum, San Antonio Spurs – $947,275 (rookie contract)
Underrated. He's been lighting it up with the Sacramento Kings for the last two years and has been arguably the best point guard in their lineup in limited minutes, but a lack of leadership and visibility kept his talent under wraps. McCallum is a smart and versatile point guard, I'm expecting him to blossom into a better player than both Patty Mills and Cory Joseph in San Antonio.
C – Boban Marjanovic, San Antonio Spurs – $1,200,000
I originally had Lou Amundson here, but I want to give a shot to the Beast from the East, Boban Marjanovic, also known as the Best Ears in Basketball. He would be a secret weapon I'd pull just to fuck with the other teams' second units. Not the toughest player, but a surprisingly nimble giant with a soft touch around the rim and arms that can reach the sun.
CAP HIT: $69,736,504
Not sure if my team is championship material, but I have a young, decorated squad of savvy and versatile players who could make life miserable for any team on any given night. My bench lacks shooting, but I think my ball-handlers are smart and creative enough to break down defenses and create easy shots.
What do you say?