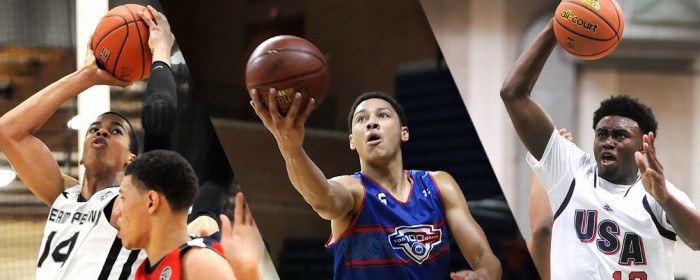 It's summer and I am withering away without any basketball to watch. Seriously, my purgatory will be over in a little more than a month, but I've seen so starved for sports that I've been watching MLS and EPL soccer. Canadians are not supposed to like soccer, but when your local team acquires Didier freakin' Drogba, things change. So there's nothing else to do but to look forward, right?
During basketball years, I monitor just about every player in the nation, from NBA guys to 15 year old phenoms, like some perverted internet creep. Because I'm crazy like that. I know everybody playing basketball and I have an opinion on them. Here are the freshmen who are going to light up the boards next fall in the NCAA.
Ben Simmons (F), Louisiana State University: I love that kid. I think he has a chance of being the best player coming through the draft since Anthony Davis. I'm not necessarily comparing them, but I think Simmons has the most advanced skill set at the same age. The kid is a one man playmaking machine. He can rebound, run the floor, finish with authority and he's got spooky-good court vision for a 6'9 guy. That's what is going to set him apart. He's got a man's body already and is only going to get stronger. He's calm, assertive, mature, he's the total package. Get in the bandwagon now, we're going to Larry O'Brien Land.
Skal Labissiere (C), University of Kentucky: Here's a curious case. Labissiere is not even 18, he's already 7 foot tall (and growing), he's mobile because of his slender but athletic frame and explosive. He's also got a sick shooting stroke for a kid. I mean LOOK AT THE THING. He's not likely to suffer lower body injuries early in his career because he doesn't pack a lot of weight. I heard there is a lot of red tape around his NCAA eligibility, so he might not even play next year, but right now he looks like an NBA scout's wet dream. I don't remember seeing a big man's mixtape that displayed such "guard-like" abilities.
Brandon Ingram (F), Duke University: I really like Brandon Ingram. I think he can become the next great two way forward or just fade out in college. His physical attributes are there. He's one of the lengthiest forwards I've seen in the NCAA since Kawhi Leonard and Kevin Durant, he's quick and shifty and he can leap too. His game is skill-based and he's got a great basketball IQ for his age, so that leads me to think his talent will translate, but he'll have to put a lot of worries to rest about his ability to withstand the physicality of college ball. I think he's made a smart choice going to Duke, though. Coach K's going to maximize his chances to succeed.
Jaylen Brown (SF), University of California: Here's the first kid on that list I'm not completely buying buying the hype on. Brown is tremendously explosive, athletic and he can create his own shot. I'm not sure he's big and long enough to become an elite wing player though and I'm also not convinced he's the most ready mentally to make the leap to college basketball. He's made a strange choice of college that was right beside his prep school when every major program was at his knees. I think he might turn into a Gerald Green/J.R Smith time of player who can score and run the floor, but there are already telltale signs that he'll struggle to find consistency at the next level. He's definitely no second coming of Kevin Durant like he's been hailed to be.
Jamal Murray (SG), University of Kentucky: A big guard with a smooth shooting stroke and a killer clutchness that lit up the Pan Am games' basketball semi-finals against NBA and NCCA veterans a couple weeks ago despite being only 18. Murray's also a decent ball handler who can run the floor and lead the break in a pinch. He comes into a major program with momentum pushing him and he's going to try and swipe ballhandling duties from Tyler Ullis and Isaiah Briscoe because that's how much of a killer competitor the kid is. He's the kind of player NBA scouts fall in love head over heels over.
Ivan Rabb (C/PF), University of California: Rabb is a very talented player, but he's going to be an odd fit going forward. He's a tall, but skinny power forward who will need to fill his frame in order to battle down low. He faced Ben Simmons last year and looked extremely raw compared to the Australian. Rabb has a traditional post up skill set which I think might fit again oddly in the new NBA. Rabb will have both to mature physically and to learn how to run the floor and to do pick and rolls. Expect him to struggle early on, but he's a resourceful kid who's going to end up being a lottery pick, next year.
Diamond Stone (C), University of Maryland: Here's a big man who's going to be right at home in the new NBA. He's a big, physical small ball 5 with a physique reminiscent of Zac Randolph, except that he can run, he can jump and he's even lead the break a couple times. Stone doesn't have a reliable jump shot yet, but doesn't need one if he plays 5. He's going to set screens on the perimeter and roll to the rim for entire games. Maryland is going to do great this year in the NCAA and comes spring, Diamond Stone is going to be a hot ticket with NBA scouts.
Malik Newman (SG), Mississippi State University: Newman has a lot of doubters because of his size for a 2 (he's rumored to be 6'3), but I think he's prove them all wrong next year in the NCAA. He is powerful and explosive, but his guard skill set is well-developed from his age. He's already ready to compete with college players. He's got great handles, he can create (and hit) his own shots and he can finish through contact. Whether he stays a 2 or becomes a point guard at the next level, I think Malik Newman's the real deal. He doesn't seem like the most assertive kid. He took a lot of time to choose a college and ended up staying home, but I think there are too many skills hardwired into him to fail.
Dwayne Bacon (SG), Florida State University: Another powerful 2 that's been quietly going under the radar. Bacon is rawer than Malik Newman, his game relies much more on overpowering his opposition and creating crazy amount of space on athletically overwhelmed opponents, so there are a lot more questions about him taking the next step. He's an exciting prospect though. Have you seen these freaky Russell Westbrook-like power dunks? I'm not sure if Bacon is going to be a one-and-done in college as he'll face at lot of adversity in his conference next year, but he's going to be fun to watch.
Stephen Zimmerman (C), UNLV: A floor running, jump shooting big man. I have my doubts that Zimmerman will replicate his high school success in college, but he's got some interesting tools already. He's skinny and explosive and can make his way through traffic. He can jump out of the arena. I see him becoming a JaVale McGee minus-the-headaches type of player, who can follow the guards and protect the rim on both sides of the floor. I don't think he's the second coming of Spencer Hawes like pundits have been saying because he's a 7 foot tall white guy. Zimmerman is way more athletic. He could be a very good center or yet, he could not adjust at all. I think he makes it as a two way guy, that his offense is not going to completely translate.