Byron Buxton & The Risk of Speed
While it may be fun to watch 42-year-old Bartolo Colon's 2015 hitting renaissance, an entire professional sport can't depend on schadenfreude to attract new fans. We give standing ovations to the aging veterans who have dominated the sport and we tip our hats to the grizzled unsung platoon guys as they hand off the torch and move into to the sunset, but the real backbone of Major League Baseball is youth.
There have been a scant few exciting prospects who have quickly turned into big league ball players in the past few years. Until recently, Mike Trout and Bryce Harper were considered the new faces of the MLB, but that duo has quickly expanded to include a large pool of talented young 5-tool players.
The Beginning
Byron Buxton was the Minnesota Twins' 2nd overall pick in the 2012 MLB draft. He was born in 1993, the same year the movie Rookie of the Year came out.
Though Buxton would eventually settle on baseball, he showed enormous promise as a football player. One account has him throwing a football more than 80 yards during practice.
Pitching his senior year, Buxton boasted a 1.90 ERA and carried a 10–1 record. His fastball was clocked at 99 MPH, a speed most grown men in the sport never even touch.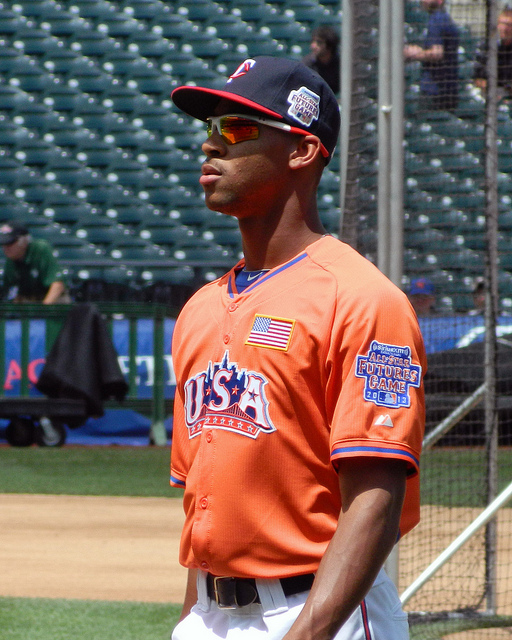 Despite his pitching prowess, Buxton's speed and his ability to hit the ball made him stand out as a highly athletic prospect. During his senior year Buxton put up a .513 BA and stole 38 bases in 39 games. Byron originally drew the interest of scouts as a 15 year old and was drafted straight out of high school, snagging a $6 million signing bonus.
The Tools
The 21 year old outfielder motors around the diamond like an out of control sprint car driver, and his coaches openly boast that he may be faster than Bo Jackson. While baseball coaches can frequently seem full of shit, it's hard to argue with Buxton's demonstrated abilities.
Buxton's triple in a MiLB game in April, 2015:
"Forget where the ball went, let's watch him run."
Buxton's first career MLB hit was a stand-up triple; clocked by Statcast at 21.39 MPH, .41 MPH faster than MLB speed demon Billy Hamilton, who stole 56 bases in 2014 and set a club record for most stolen bases by a rookie for the Cincinnati Reds.
The way the announcers called his hit was indicative of how much the priorities of the league have shifted.
"Forget where the ball went, let's watch him run," the announcer says.
MLB front offices turned a blind eye to stimulants and PEDs until the early 1990s because home runs sold tickets (see also, the Bash Brothers of the 1988 Oakland A's). As baseball has attempted to move away from the era of beefy bats and big flies, it seems like the focus is on players who play a more balanced game. There's obviously still a huge market for strong bats, but more young players are finding success through plate discipline, baseball aptitude, and flat-out speed.
Speed, however, is one of the riskiest parts of baseball. The fastest players in the game are the ones most prone to significant injuries.
Defense is a question mark
Buxton alternated between pitching and playing outfield during high school, but his rapid rise to the majors without playing any college ball and very little minor league time raises questions about his ability to play defense. If he wasn't playing for the Twins, I would expect him to ride the elevator between AAA and the majors quite a bit, but I don't think the organization is in a position to hold Buxton back — they're relying on their young blood to energize fans and position themselves as a contender in the AL Central.
That said, here's a clip of what Buxton brings to the table — throwing out Melky Cabrera at home from center field.
Closing Thoughts
The fact that Buxton has league-leading speed as a rookie, a great arm, and power upside makes him a very exciting young player. However, his assets are also a liability. Guys with explosive speed like Buxton are asked to do a lot more than power-hitting specialists, and there's a lot more injury risk inherent to a base-stealing young phenom than there is for a beefed-up DH.
Fair or not, these injuries combined with Buxton's hustle may eventually get him tagged as "injury prone," the go-to contract bargaining chip for GMs looking to snag a bargain on a hard-working player with tremendous upside.
As we enter the season's second half, the Twins look like a playoff contender, meaning they can't afford to keep Buxton in the minors or on the bench. However, the team's hunger for the post-season may take a toll on their budding talent. Buxton's base stealing mishap in late June cost him some time on the DL, (as well as his chances at some REAL Rookie of The Year hardware in one of the most competitive landscapes in decades).