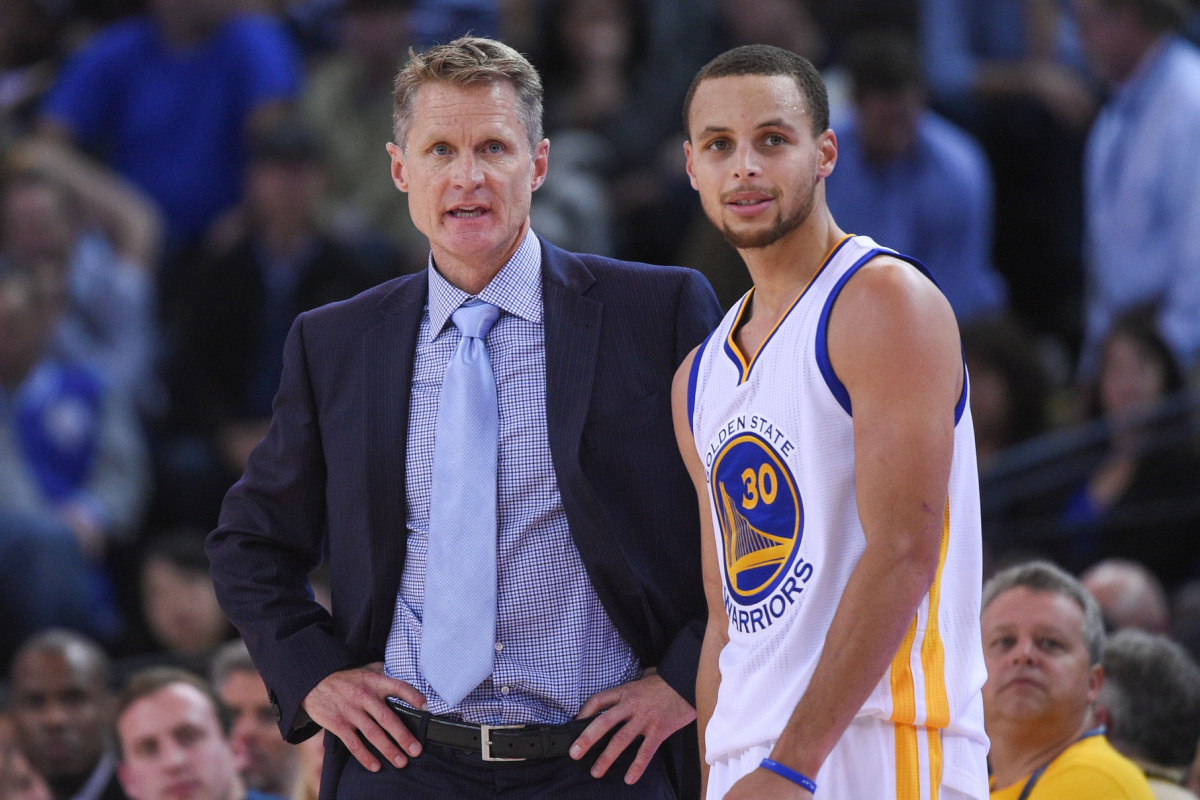 The process was painful, but we're finally here: the NBA finals everybody wished would happen will finally start next Thursday, June 4th – Golden State Warriors vs Cleveland Cavaliers. These playoffs weren't exactly memorable, but now that they're done, the two only team that mattered at the start (except for the San Antonio Spurs) are facing off and it's time for a nerdy analysis of their series. Who are going to lift the Larry O'Brien trophy in celebration this June is important, but not as important as how they're going to achieve it. Are you ready for a ten megaton charge of sports nerdism?
Here…
we…
go…
OFFENSE
The Cleveland Cavaliers offense is simple on paper. They run high pick and rolls about 40-50 times a game and space the floor with the unlikely team of perimeter shooters of Kyrie Irving and J.R Smith. In reality, it's more complicated than that. See, their pick and roll ball handler is freakin' LeBron James, a player who needs about five feet of space in order to gain momentum and turn into an unstoppable freight train. So the challenge lies in denying him penetration and push him back to the perimeter, where he's going to panic, revert to his old habits of falling back on isolation plays and jack up shitty shots. It's easier said than done, but the Spurs have been more or less successful at it for the last two years.
The plan is even more complex with Tristan Thompson on the floor, one of the NBA's most prolific offensive rebounder, who has to be taken care of if you don't want the Cavs to have two or three chances at making their basket. Stopping the Cavaliers revolves around stopping LeBron James, which you can't really do. You can contain him though. If the Warriors can contain him to a 20/5/5 stat line instead of the 30/10/10 he's been having during the Atlanta series, they should wrench one of two close wins out of it. Not only LeBron is the best offensive weapon of the Cavaliers, but he's also, by far, the best playmaker. If you stop LeBron, the ball is going to get to Kyrie and J.R a lot less and the shooting percentage of the Cavs should go down.
The Golden State Warriors offense is a a lot more intricate, because they have more playmakers and more player who can carry the scoring load. The Warriors have the more fearsome backcourt of perimeter shooters in the NBA in Stephen Curry and Klay Thompson (who competed in the 3 pts contest at this year's all-star game), but they also have a competent pick and roll center in Andrew Bogut and a skilled post player with a shooting touch in Draymond Green, a selfless, two-way wing in Harrison Barnes, a ridiculously tall guard who can post up in Shaun Livingston, a pick and pop center in Mareesse Speights, well you understand what I mean. If the Golden State Warriors have been scoring with so much ease this year, it's because they have a lot of weapons.
The main concern for the Cleveland Cavaliers though is throwing the Splash Brothers out of rhythm. It's possible, a couple of teams have done it this year, but not in a sustainable manner. If Curry or Thompson sets their feet square, the ball is most likely going in, so you have to beat them to the perimeter and chase them down, which is more demanding on the defense than it is on the offense. The Warriors rely on intricate play calling and early offense in order to score a lot, so it's important for the defense to never take a shift off and not let the Warriors settle into their plays in half court. The Cavaliers' defense have shown great things in that regards in the playoffs, especially when Iman Shumpert is on the floor, but they're going to have to do it against the best offense in the league repeatedly starting this week. So it's not ow never.
DEFENSE
The Cleveland Cavaliers' defense only started making sense when they traded for Russian center Timofey Mozgov, this season. Their perimeter defense was always competent, but once they got beat it was pretty much a lover's lane to the basket. Mozgov sorted out that issue. He's a big, intimidating presence under the rim, he makes players hesitant about challenging him and gave the defense the extra second they need to recover and force a low percentage shot. The loss of Kevin Love stresses the Cavaliers'defense because it sends LeBron James down in the post more than he would like, but force is to admit, he handled it like a champ, so far.
What's intriguing in this series is the Cavaliers efficiency at chasing knockdown shooters off the perimeter, which is exactly what they need to do against Golden State. Steve Kerr is going to keep them guessing though, expect him to alternate ball handling duties between Curry and Thompson and have one another cutting and losing their man off screens. Both guys are playmakers and it's going to be key to keep the defense from getting into a groove. The Cavaliers' defense will also have to sort out the Steph Curry/Draymond Green pick and roll scam on defensive switch that gets Draymond some alone time in the post with point guards. I'm still not sure how they should do that, but I think it revolves around having Iman Shumpert and LeBron guarding them. Imagine what Draymond would do to Matthew Dellavedova in the post!
Golden State's defensive strategy relies a couple factors, but mostly David Lee (kidding) on Draymond Green and Andrew Bogut's joint efforts in stopping LeBron James. Green has shown beautiful things this season on a comparable athlete in Blake Griffin. He kept glued to him and used his lower center of gravity to dig under and keep Blake unbalanced. He'll have to stick to LeBron and deny him every inches he can. If someone can suck the life out of the King, it's him. Andrew Bogut will also have his importance in guarding Timofey Mozgov and Tristan Thompson, and deny them offensive boards and easy finishes. Golden State will have the choice to send him or Harrison Barnes/Andre Iguodala in help defense whenever the situation asks for it.
Klay Thompson and Shaun Livingston will also have a critical part to play in order to undermine Cleveland's efficient floor spacing. Throwing Kryie Irving and J.R Smith out of rhythm could make the entire offense of the Cavaliers collapse unless LeBron James enters Super Sayian 3 mode and scores 40/25/15. Don't laugh, it's always possible. We never know what LeBron is capable of whenever he's not busy cliquing up. Thompson and Livingston's long arms will also be necessary in cutting the passing lanes and undermining LeBron's mojo.
COACHING
I think Steve Kerr proved himself this season to be the Anakin Skywalker to Gregg Popovich's palpatine, but the Cavaliers are still a question mark. Who is really coaching this team? Is David Blatt any useful? Does he do his own play calling? Who's going to make the adjustment after a loss (beause they will lose, I mean, you're deluded if you think Cleveland takes this one home 4-0). We still know very little about how coaching will affect their series, but the nifty, well-structured work Steve Kerr has been doing this year with Golden State leads me to believe he could be the X Factor in this series. I also think that what's going on with Cleveland's coaching situation will end up playing against them in high stakes situations.
HEALTH

Trevor Ariza has made Klay Thompson bleed from the ears, but apparently he's going to be OK for game 1. Steph Curry had a bad fall in game 5, but since he's been busy draining no-look shots from half-court in practice since, I figure he's been OK. The Cavaliers though don't look so hot. Kevin Love is out for the playoffs and they've been managing without Kyrie Irving for a while. Even if he's back for the finals, he's not going to be 100% and a knee injury is not good news for a dynamic slasher and explosive jump shooter like Kyrie. He needs is pop. I'm also worried about LeBron, who's looked awesome against Atlanta, but drained after the game. How long can you carry on with such an inhuman level of play?
PREDICTION
I got Golden State in 6. They got their own superstar, they have a better roster and they're not as banged up as Cleveland. LeBron is going to steal one or two game on his own, but the Green/Bogut duo will eventually wear him down and beat the fight out of him. If the Warriors can line up two in a row, I think they'll have Cleveland cornered, and will deliver the finishing blow. I think the Golden State Warriors take home their first title since the Rick Barry era and usher the NBA into an exciting future.