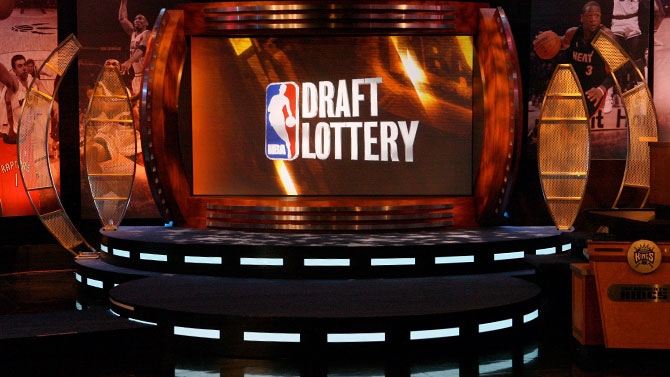 Every basketball fan I know loves the NBA Draft Lottery. It's a burlesque event features brooding superstars, anxious executives, confused but happy legends of the sports, white rappers, midgets and multiple surprises every year. It has no business being on television, but it is so universally beloved, its tradition of absurdity keeps us coming back every years. It's also that time of year where the 14 franchises who missed the playoffs (ranging from unlucky to desperate), gamble their future on freakin' ping-pong balls. None of them like it, but the NBA doesn't care because the fans love it and it creates all kind of IN-SANE hypothetical scenarios for us to extrapolate on for the next four weeks until the draft.
Here is what happened and how the random bounce of the ping pong Gods could influence the future of the NBA:
– Russell Westbrook wore a rater conservative outfit, with a key around his neck like a 12 year old coming home alone from school. He also texted somebody while Jahlil Okafor and Karl-Anthony Towns were being interviewed by Heather Cox, although there doesn't seem to be any leftover photographic evidence of it. It didn't help the Oklahoma City Thunder one bit, since they finished last and got the 14th overall pick. They should nab a nice rotation player anyway. Maybe a backup point guard or another perimeter shooter.
– The lottery failed to reward Sam Hinkie's ponzi scheme and didn't allow the Philadelphia 76ers the right to nab the Miami Heat or the Los Angeles Lakers first round pick. If there is a conspiracy theory to be discussed this year about the lottery being fixed, it's that none of the teams that lost willingly were rewarded by the draw. It means that Hinkie basically gave Michael Carter-Williams to the Milwaukee Bucks for a mid-to-late first rounder next year (I thnk the Lakers will compete for a playoff spot if they get lucky in free agency). Since I'm a believer in Michael Carter-Williams (the only one left), I think he will come back and drink Hinkie's blood's next year. DRINK. HIS. BLOOD.
– So what did happen though was that the Los Angeles Lakers jumped two slots forward and now have the 2nd overall pick. This is all sorts of fucked up. L.A was in let's-hope-not-to-lose-our-pick-and-that-D'Angelo-Russell-falls-to-us mode, but now they're in the driver seat. Nobody starting 10 miles outside of L.A wants them in the driver seat for any reason whatsoever. So will they go ahead and pick D'Angelo Russell, arguably the best pure basketball player in the draft, now or will they take the safe route and draft Jahlil Okafor, so they can pair him with Julius Randle in their front court next season? I don't think Emmanuel Mudiay is an option for them anymore, not if they have the choice. I'm sorry if you enjoyed watching the Lakers suck as much as I did, but what happened last night is the beginning of the end of our happy fun time.
– Since the Lakers moved forwards, the New York Knicks fell down to no.4. That prompted many websites to claim disaster and Adrian Wojnarowski to Tweet that the Knicks' pick will be up for trade. Don't trade the pick, Phil. Whatever you do, DON'T. TRADE. THE. FUCKING. PICK. Don't trade it. Don't pick Myles Turner and don't pick Kristaps Porzingis. They are good fits on paper, but they are players who need a lot of love and the Knicks aren't in the player development business nowadays. Taking Emmanuel Mudiay would not solve the Knicks' frontcourt issue, but it would solve an issue for the next ten years. He's big, quick, he can run the pick and roll and get to the rim at will. All of these guys, the Knicks didn't have at point guard, last year. So why not find a long term solution to a problem? Important detail also: HE WANTS TO PLAY IN NEW YORK. Think of Mudiay as a middle ground between John Wall and Jrue Holiday.
– The Minnesota Timberwolves were the first team since 2004 to finish last and get the first pick anyway, which means the Knicks lost three draft ranks by winning two meaningless game at the end of the season. The T-Wolves should pick Karl-Anthony Towns and try to package deal Nikola Pekovic to a contender for further draft loot. The Wolves will give Jahlil Okafor some thought, but Towns fits both their need and their identity better. He could very well play power forward next to Gorgui Dieng next year and become a pick and pop terror. I know Flip Saunders' an old school coach, but I just can't see how he can pick Jahlil Okafor over Karl-Anthony Towns. He just doesn't fit his roster. So I guess the lottery settled who's going to be picked first.
So yeah, the lottery solved one question, but it created several others. Stay tuned for my official mock draft that I'll post during the first week of June. Where my nerds at?