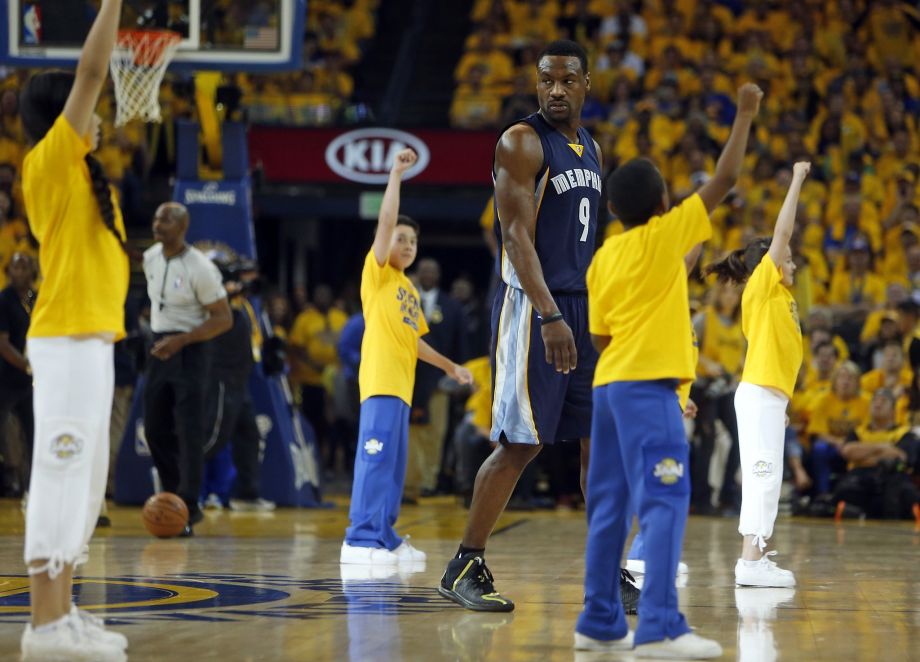 I have obscenely missed my cue for round 2 predictions. It happens, my apologies if you were waiting for them. In a nutshell: Atlanta in 6 (now that John Wall has been sidelined), Cleveland in 6 CHICAGO IN 7!!! No, Cleveland in 6. That Chicago thing is a pipe dream. CHICAGO IN 7, DAMN IT. My heart has overruled my mind, like Apocalyptica would sing. Golden State in 6 and Houston in 7. That's right, no one's getting a free ticket to the conference finals.
You know what it's not too late for, though? Giving you 5 more players to watch in the NBA playoffs who are not named LeBron James. Because there is so much good basketball being played, headlines about a headband, Kevin Love's broken heart or promo videos featuring domestic violence just don't cut it. You know the rules: none of these guys were all-stars this year, one guy per team and believe it or not, I managed to pull it off using only the remaining teams in this years' playoffs.
Tony Allen (SG) – Memphis Grizzlies: This is a bit of a nerd's choice, because a lot of what Tony Allen does on the court is psychological. Allen's never been a very good offensive player. In fact, he's looked dumb a couple times, this year. Allen's a strong and gritty player though and whoever he's covering must be ready to pay the price or they're going to suffer through a long and annoying night, and most times Allen just terrorize his cover away from the perimeter, forces plays and wreaks havoc all over court. When he's covering a mediocre player, panic is spreading like the court is on fire. Oh, and he does the occasional crazy thing, so that's another thing that makes him cool.
Nene (PF) – Washington Wizards: Nene's birth name is Maybyner Rodney Hilario, but since it's lame and Nene's cool, he just Nene now. There are two reasons why you might not know who he is: 1) He gets injured a lot and 2) He's often poorly used in Randy Wittman's sets. When Nene's having a good night though, it's a sight to behold. He's a the perfect blend of power, quickness and agility in the post. He beats the bigger guys using his speed, his quick hands and his wide knowledge of spin moves and he beats the quicker guys because he's strong as an ox. His mid-range jumper's not bad either. Now that John Wall is injured, he needs to step up and take a bigger scoring load, and hopefully Randy Wittman is going to feed him the necessary touches to make it happen.
DeAndre Jordan (C) – Los Angeles Clippers: I struggled finding a non all-star guy I liked on the Clippers, mainly because their bench is so fucking depressing to watch. I could've picked Austin Rivers for doing such fascinating things in crunch time. DeAndre Jordan's worth your attention though, not only because he tends to finish planet crushing lobs when Blake Griffin doesn't (seriously, check this one out, too), but he improved so much and became such a dominant defensive presence in the paint under the tutelage of Doc Rivers that it makes you feel like you're witnessing your rebellious little brother turn into a strong, respectable man.
DeMarre Carroll (SF) – Atlanta Hawks: There's nothing more fun/hilarious (at least to me) than watching a basketball player traveling to the end of the rainbow on a contract year. DeMarre Carroll has always been recognized as an athletic finished and a lockdown defender but Jesus, has he caught fire in these playoffs or what? The Hawks used Carroll as a perimeter defender mainly during the regular season, but it seams that he can beat his man regularly on drives to the basket and that he's so energetic, he's difficult for anybody to contain. Everybody knows I love my wing players gritty and able to play on both sides of the court, and Carroll is just that. He's not my favourite Hawk (Jeff Teague and Kyle Korver are), but he's the only member of their starting five who wasn't named an all-star this year.
I don't know…Mike Miller? (SF) – Cleveland Cavaliers: The Cavaliers are the only team left I haven't named a player from and it's because I have a hatred for them that could be taken independently from my overpowering hatred of LeBron James. They're just a shitty franchise who made stupid move over stupid move and kept lucking out until their superstar came back (like, you know, winning the draft lottery three times in four years). Their owner Dan Gilbert is certifiably insane and may or may not drive LeBron out of town again before the end of his career. Mike Miller's the only player on that roster I kind of like and it may or may not be based on his ability to nail clutch three pointer with only one shoe.