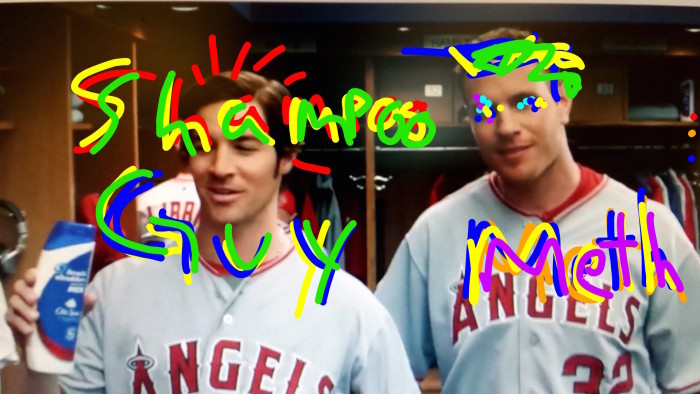 In case you weren't aware, there's another pointless baseball game taking place tonight. Only about another 130 more to go. Wow!
Dear baseball team men in Anaheim and Seattle…keep up the mediocre work you guys.
I wonder if any of the players on the Mariners are going to eat four bowls of pasta before the game because that's always an option.
Most professional baseball players are adults so they can do whatever they want. Well, they can almost do whatever they want. I guess you can't do meth like Josh Hamilton. Why did everyone get so mad? I mean Nolan Ryan was a forty-five-year-old drug dealer and no one had a problem with him (p.s. put a shirt on Nolan).
Anyway, tonight's game is a matchup between the shampoo man (C.J. Wilson) and some guy I've never heard of named Roenis Elias. Did you know both these pitchers have left hands. I think they also have right hands as well, but their left hands are the important ones. No results were found when I googled "Does Roenis Elias have a right hand?"
I should mention I dislike both these teams because I once went to an Angels-Mariners game with my dad and it was so boring we left in the second inning. I haven't gone to a baseball game with my father since.
If you have tickets to tonight's game, please burn them because according to the scouting report Willie Bloomquist is supposed to see action in this game and watching Willie Bloomquist get action isn't what I would refer to as an "enjoyable evening," but what do I know. I've never experienced IRL Willie Bloomquist.
How many bobbleheads would they have to give you to buy a ticket to this game? For me, at least six.
I guess there's Mike Trout. He's cute and I heard he breastfed himself as a baby, but like I know he's constantly farting on his hand and then making his teammates smell it so it's tough to enjoy him as a player when I'm stuck imagining what his hands smell like.
Did you hear Albert Pujols is going to play Gandalf in the fourth Hobbit movie? Have fun watching him ground into four double plays tonight.
In other hollywood news, they're supposed to film a scene for Fast and Furious 8 during tonight's game. The scene involves Vin Diesel driving a car on a home run ball hit by Nelson Cruz as Dwayne Johnson gives Cruz a piggyback ride around the bases.