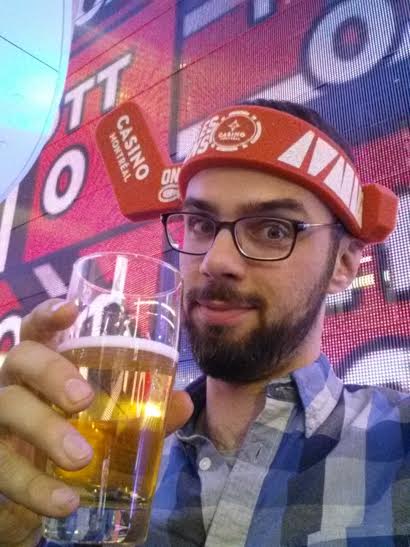 The greatest thing about spring is that both the NHL and the NBA are holding their playoffs at the exact same time. It's heaven for a sports nerd such as myself, but in Canada where I live, only one of the two is important: if your local hockey team is in the NHL playoffs, you have to follow them or your might be considered a traitor and be put on a secret services watchlist. I'm barely exaggerating here, the intensity of hockey culture in Canada has often been compared to football culture in Europe and South America and after I tell you what I've done on a Wednesday night, maybe you'll understand better what hockey means to Canadian people.
The Habs were leading the Ottawa Senators 3-0 in their series, and last Wednesday, we had a chance to send them golfing for the summer. Since I wanted to celebrate the demise of our arch-rivals in style, I made my way to the Montreal Casino where Loto-Québec (the state lottery) organized a get-together for Habs fans, to celebrate the impending eliminations of one of the NHL teams I so viscerally hate, I can't quite word it with enough violence to make justice to my feelings. Take a second to let that sink in: a government owned company organized a giant party in a freakin' casino in order to celebrate the awesomeness of our local team. Yeah, that's us. We're polite, kind and open-minded about political issues, but when it comes to hockey, we don't fuck around.
The word "party" doesn't quite describe the atmosphere in Montreal Casino last Wednesday. There was a DJ on-site, blasting everything from the sacro-sanct Hockey Night in Canada theme song to the Star Wars Cantina. Why did he spin Star Wars Cantina? I have no idea, but I thought it was awesome. It fit the evening atmosphere along with dancers, cheerleaders, ridiculous head props giveaways (see display photo to understand), skill contests and ex-Habs players Yvon Lambert and Francis Bouillon working the crowd and getting people amped up, lost in the sounds of the slot machines and poker tables. Guys, I've been to Las Vegas before and it doesn't get as personable, dorky and life-affirming as this. I felt right at home in the middle of a casino, rooting for my home team and forgetting about my woes for a couple hours. That's what sports is all about, participating in something greater than yourself.
Of course, the Habs lost the game 1-0 because of a dumb move by a dumb defenseman who's been killing us with dumb play all-year long, but it's a detail. Tom Gilbert went for a loose puck in a corner and blind passed to Senators' Cody Ceci, who set up Mike Hoffman for an easy one-on-one goal with ten minutes left in the game. Sure, I was pissed about that for maybe twenty minutes or so, but it ultimately doesn't matter. We're still up 3-1 in the series and we still have two tries to send them packing before it actually becomes important that we do so. Very few teams in the history of the NHL actually overcame a 3-0 deficit in order to win a series, so I'm pretty confident it's a matter of time before we send them golfing until the month of October.
Did I tell you how much I hate the Senators? It's a pathological thing, really. I hate every NHL team from Ontario, but for different reason: for example, I hate the Toronto Maple Leafs like one would hate his disgraceful little brother who gets drunk every weekend and speeds with the parents' car. My thing with the Senators is much more visceral, though. Because they're actually a well-managed franchise that tries to make it work in every way it can, and for some reason I can't quite explain myself, it has a way of putting their hands on franchise players in a way the Habs never did. Somewhere really dark deep within, I'm afraid the Senators can do this. But I know it's only my insecurities talking.
The Habs have never been so good though, thanks to our warlock of a GM Marc Bergevin, and the playoffs fever hasn't run so high in the street of Montreal since I moved there in 2002. It's the great equalizer for Canadian people. The time where companies such as Loto-Québec leave their offices to party with the plebeians because we're all worshipping the big CH, the symbol that binds us all together. I love the NHL playoffs. It's that time of the year where everybody is the same and wants the same thing: for the Habs to finally hold the Stanley Cup again. It never felt more real than now. It doesn't get any better than this. It would be an understatement to say the Habs have taken over town. Right now, they are the town.