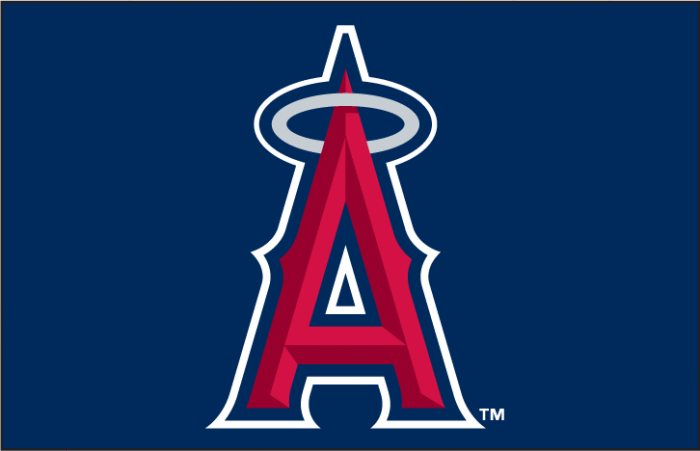 OFFSEASON
Big story: the Angels didn't sign an aging player with red flags sticking out all over his body to a contract over $100 million dollars. Success! The other big news was that they traded the steady and sound Howie Kendrick up the freeway to the Dodgers in exchange for promising left-hander and top prospect Andrew Heaney. It was a bold move made out of necessity. The Angels payroll is strapped like a murderer to the electric chair and the starting pitching depth is a barren wasteland that led to a C.J. Wilson playoff start where he lasted exactly 0.2 innings. So the Angels pulled the trigger and went on vacation to Florida where they picked up Matt Joyce and brought him back to Anaheim.
C: Chris Iannetta
In 2012, Jeff Mathis was traded to the Toronto Blue Jays for a no-name reliever and a Peameal Bacon Sandwich. The light-hitting catcher had been the ire of Angels fans for years as Mike Scioscia confoundedly platooned him with the far superior Mike "man-amongst-men" Napoli. Finally, to much internet sports-blog fanfare located in the Orange County-region of Southern California, he was sent packing. In my delirium I wagered with a friend that Mathis would hit over .200 in Toronto. Sure enough, the Florida native pulled through for me that year, slugging his way over The Mendoza Line for only the third time in his career. Now a rookie Jeff Mathis card (.99 cents on Ebay, $3.99 shipping) sits on my bookshelf as a prize for my success in that great wager.
So what's this have to do with Chris Iannetta? Only that he must be doing something right. There are plenty of terrible backup-AAAA catchers on the Angels for Scioscia to platoon with him with but Iannetta has consistently kept the lion share of games behind the dish when healthy. 2015 shouldn't be different.
1B: Albert Pujols
Since Pujols went west, his production has declined steadier than California's water supply.
While the glorious days of THE MACHINE my be gone for good, Pujols, who once help buy out St. Louis' only classical music station to turn it into Christian programming (true story), is still a homerun/double threat in 2015. The real question is: how long can even that last? The Angels have been careful with Ole Al, who will be 35 this year, platooning him at DH and giving him regular days off. But that's kind of like putting a band-aid on a bullet wound.
2B: Some Dude with a Glove
The problem with the Howie Kendrick trade is that no one remembered to sign a second baseman. Not even Mike Scioscia is sure who the hell is going to start there. He's probably thinking about right now over a big plate of rigatoni (Pass the parm, Lasorda!). As a result expect some forgettable, calorie-free, light-hitting combo of Johnny Giovatella, Josh Rutledge and maybe Grant Green to fill in the four spot.
SS: Erick Aybar
In the last three seasons Erick Aybar has produced 9.6 wins above replacement. When Erick Aybar's contract is up at the end of the 2016 season, the Angels will have paid him in total over his 11 years of service, around $45 million. Now for the hell of it, compare that to Rangers shortstop Elvis Andrus who has produced 8.6 wins above replacement the past three seasons and is owed $120 million over the next 8 years.
Takeaway? Either Elvis Andrus is overrated and the Texas Rangers front-office is dumb or Erick Aybar is the best-kept secret since Williamsburg circa 1998.
3B: David Freese
David Freese has a big problem in that he's an entirely average player who happened to lead one of the most improbable World Series comebacks in (maybe) baseball history. So naturally, anything he did after that was bound to be a disappointment and it largely has been. Which is fine because if David Freese was good, it would inevitably lead to some stupid nickname involving ice, cold water or something related to the season of winter that everyone would hate except for Hawk Harrelson. The important thing about David Freese and 2015 is that it's his walk year. If you believe in the mythical story of players doing better in the year before they hit free agency, then David Freese just might surprise us all and actually hit more than 10 home runs this year, then inevitably sign a long-term deal with the Phillies because #Amaro.
LF: Matt Joyce
A platoon dude who smashes lefties and fell into a (mostly) starting job because Josh Hamilton likes cocaine has a bad shoulder.
CF: Mike Trout
Trout is an amazing baseball player but he's boring as shit. He's still dating his high school girlfriend. He accepted his MVP award in his parent's living room, where he still lives. He smiles a lot. Get a speeding ticket or something. Grows some facial already. Fuck.
Anyways, on the field, the only worrying part of Trout's game right now is his 26% K-rate last year. The word on the mound is that he likes those high-fastballs and can't do much with them. Can the reigning AL MVP, coming off the worst season of his career, adjust? Bet on it.
RF: Kole Calhoun
Calhoun flew under almost everyone's radar in the minors being deemed not "tools-y" enough. Putting any potential shitty Tim Allen jokes aside, Calhoun has proven to have more than enough to patrol right field as a regular starter. In 2014, he produced a 4-win season and did it the way you want out of a baseball player: a cheek full of chew, perpetually dirty uniform and a whip for a swing. Now he's 27, when most baseball players peak. So expect a repeat performance, more red hair and a dumptrucks of #want.
DH: CJ Cron
Former first-rounder turned Chris Carter disciple, CC Jr. is slow, terrible with a glove, and strikes out soooooooooo much. Like SO much. The only thing Cron has going for him is that he can hit the ball really far. With Josh Hamilton's fate currently out with a bum shoulder and Matt Joyce filling in leftfield duties, Cron will get the nod as the regular DH to start the season, providing the Chronic Tacos-eating Anaheim faithful with spectacular highs and awholelotta swing and miss.
Bench
One time in Houston, the Angels were playing the Astros and Collin Cowgill was up to bat. A dude near me in the stands, about three rows back from the field, stood up and yelled in his Houston-drawl, "Cowgill? More like COWGIRL!" Since the Astros pull on average 4 1/2 fans per game, it kind of echoed through the stadium. On the next pitch, Cowgill crushed a home run to deep left center. That was pretty cool.
STARTING PITCHERS
Garrett Richards
Richards throws 97+ mph heat that he struggles to command, making for some nervous batters and buckets of wild pitches. Richards didn't even play the last month and an half of 2014 and he still led the league in that category. Before busting his knee trying to cover first, Richards was well on his way to a career year and even possibly a few CY Young votes.  No one really saw that coming and now coming off knee surgery, no one knows if Richards is the real deal or if 2014 was a flash in the pan.
Jered Weaver
The golden-haired, fan-favorite holds the esteemed title of throwing one of the slowest fastballs in the game. Yet, despite an increased ERA and a decreasing strikeout rate, Weaver has mostly made it work, remaining an above-average pitcher. Is 2015 the year when it all goes to hell? All signs point to yes, but then again they've been pointed that way for the past three years so who the fuck knows?
CJ Wilson
Seriously, fuck CJ Wilson. Does anyone give a shit that he's straight-edge and drives racecars and likes to take photos and reads a lot and has been profiled in The Guardian? Like just fucking play baseball already.
Matt Shoemaker
Feel good story about a life-long minor leaguer finally getting his chance in the bigs and excelling beyond everyone's expectations. We all know how these usually go the following year. It's called Regression and it stars Matt Shoemaker.
Hector Santiago
Dude has a sunflower tattooed on his forearm.
BULLPEN
There are guys who pitch in there! One of them is Huston Street. He's pretty cool because he's a closer who doesn't pitch from the stretch and that is some pretty radical shit for baseball.
PREDICTION
Everyone thinks the Angels are going to win more games than they lose. Most think they'll make the playoffs and then fizzle out like they've done off and on for the last decade. That's probably about right. But here's the crux for the Angels: They are getting old. The farm system is all manure and no cow. And they have one of those, bloated, fart-inducing-I ate-too much hummus-type payrolls. Pujols, Weaver, Wilson, Mike Trout and Josh Hamilton are owed a combined $114 million in 2016. That's five players, four of them on the wrong side of 30 gobbling up more money than the entire 2015 payroll of 13 MLB teams.
Burp.
What does that mean? The Angels need to probably find a way to win some hardware soon and fast or owner Arte Moreno will have to stop acting like he's not living off borrowed time and open up that pocket book some more.