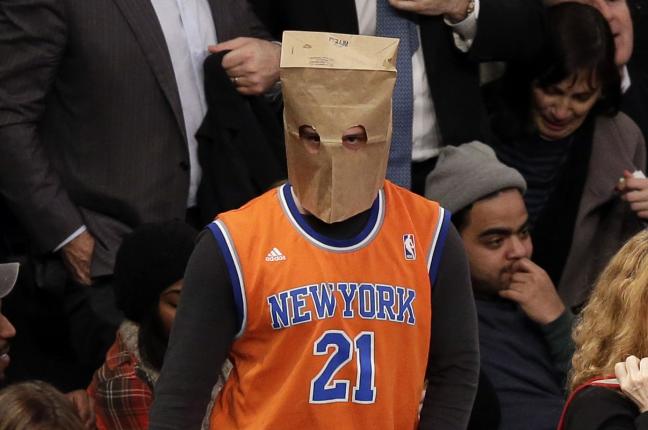 Bear with me. Then feel free to file this under "desperate nerdism" if you like. I have this theory that any sports NBA fan without a home town team is allowed to root for five different teams. This fan is held to minimal standards of local loyalty, yet still bound to choose a set number of teams to be "his squads" and treat them like "his squads" under the threat of being referred to as a bandwagoner if he doesn't take his own cheering seriously. It's a serious this, it even have rules. Here are the 5 rules of the 5 teams theory:
1) You can pick 5 teams to root for, but you need to have a favorite team that you'll always prioritize over the others and that team needs to be somewhat close to where you live. I'm from Montreal, and my favorite team is the New York Knicks. It's a love that pre-dates the existence of the Raptors and that may or may not have something to do with Anthony Mason. I know hey're in the toilet right now, but I still love them (it's not rational). The purpose of the other team is to 1) have another team to watch whenever your team is not playing (for League Pass people) and 2) be happy to watch basketball whenever your team is tanking.
2) You cannot change favorite team. Ever. The only case where it would be acceptable to change favorite team is if they project to be hopeless for at least 5 years. The only team meeting that requirement right now in the NBA is the Brooklyn Nets, who are wrapped up in salary cap with elderly players and have traded all their first round picks for the foreseeable future. They do not project to be good until 2020, so if you want to drop this ridiculous excuse of a team, now is the team. The New York Knicks, who has a top 5 draft pick and over 30 million dollars available in cap space this summer, do not qualify for a team swap.
3) It's possible to drop any other team from your top 5 but: 1) you can swap one team every two seasons and 2) once you changed a team, you cannot change another for the two following season. Once again, this is meant to prevent bandwagoning and have sports fans invest themselves viscerally with the teams they decide to cheer for. Because professional sports is the only place where a champion of reason and intellect can grunt, fist pump, cry, drool and drink himself to death without ever feeling like he's a moron for doing so. There's a certain sanctity to the male bonding of professional sports. Or sort of.
4) Your favourite team cannot be the Cleveland Cavaliers unless you're from Ohio, otherwise it would just be bandwagonning. In case you were rooting for Cleveland before 2003, you need to show proof. That rule applied to the Miami Heat last season, too.
5) You're allowed to pick 5 teams to root for, but you need at least one specific reason to like these teams. You must be able to articulate and defend that reason at all time. It doesn't have to be logical or even rational, you need a reason. That's all.
Here are my 5 teams:
FAVORITE TEAM
New York Knicks: I've been following them since the Patrick Ewing/Anthony Mason dynamic duo was terrorizing guards and forwards under the rim. I was a big kid as a teenager, so I played power forward and modeled my game about Mason. That's the main reason why I like them. I do also like the Knicks because they represent something greater than themselves. They are an institution of one of the greatest cities in the world. They haven't made New York proud in sometimes, but it's coming along. The culture is slowly changing and I'm expecting a major paradigm shift this summer.
RUNNER UPS
Orlando Magic: I've been following them for almost as long as I've followed the Knicks. The Shaquille O'Neal and Penny Hardaway years were formative years to me, where I've started learning about the intricacies of basketball. They haven't been very good either since they've dealt Dwight Howard to the Los Angeles Lakers, but their patient, draft-based rebuild has been paying dividends. Elfrid Payton, Victor Oladipo, Aaron Gordon and Nikola Vucevic form a great young core and they're due another top 10 pick this year. It's soon going yo be fun again to root for the Magic.
Detroit Pistons: I have a thing for bad boys. They are misunderstood, vital pieces of our society and the Pistons have turned being an asshole into creative art over the last two decades, racking three NBA titles in the process. Some of my favorite, hard nosed players have played for Detroit since I've started watching basketball: Isiah Thomas, Rick Mahorn, Chauncey Billups, Rasheed Wallace, Ben Wallace, Tayshaun Prince, they've always been a rugged bunch. They've been going through a rebuilding phase in the last couple years, but it seems to be going along fine under the watchful eye of Stan Van Gundy, this season.
Indiana Pacers: Paul George. One of my favorite players. I love this new breed of super athletic two-way wing players and PG13 is the best of them, closely followed by Kawhi Leonard from San Antonio. I like David West a lot too, for his toughness and his rugged post game, but he's been getting old, this season. He's not the same player he was two years and there's a good chance the Pacers will draft a power forward to replace him if they don't make they playoffs. That's a big IF because they're neck-to-neck with the Brooklyn Nets for the 8th seed, as of today.
Oklahoma City Thunder: They're my team in danger of being swapped for the Washington Wizards, the San Antonio Spurs, the Chicago Bulls, the Golden State Warriors or the fascinating Utah Jazz. Very little compares to watching Kevin Durant and Russell Westbrook play basketball, but the Thunder's management has always struggled putting a competent roster behind them and it seems like this year, it's going to cost them a playoffs seed. I know Russell Westbrook has penned the verb "to Oscar-Robertson" this season, but I'm getting fed up seeing such transcendent players grow so frustrated.
So, what do you say? Visionary or retarded? What are your 5 teams and most important: why?