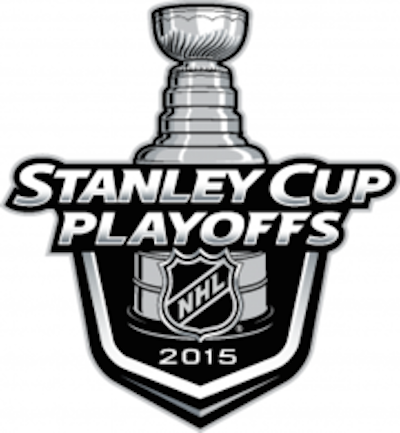 Football is Chili's. Baseball is TGI Fridays. Basketball is Applebee's. And hockey is Rafferty's, the regional chain that gets little attention, despite being delicious. I love hockey and Rafferty's. While the rest of you are obsessing over the sporting equivalents of terrible ribs, Jack Daniels meat-sludge, and…whatever Applebee's serves, I'm taking down Rafferty's Ol' Boy Bacon cheese fries and wondering why I'm the only one who knows about this place.
But Rafferty's just got rid of their DirecTV NHL package. No more hockey with my bacon cheese fries, only the bitter reminder that I love a third-tier professional sport.
But with the playoffs starting this Wednesday, it's worth it to pay attention to the NHL now. Playoff hockey is brutal and magical. Players suddenly look like they've got NBA Jam-like turbo. They follow through on every hit. There's less fighting during the playoffs, but the hate that forms and erupts from every player's soul is unparallelled. The stories that emerge–decades-long rivalries, veterans playing through punctured lungs, triple overtimes–are the bacon cheese fries of sports, and I insist you start paying attention, at least a little.
"But for whom do I root?" you ask. Unless you live in New York or Montreal or Nashville (really, Nashville), you might not have a geographical dog in this fight. Fear not. Here's a breakdown of the teams currently in the hunt for a Stanley Cup (six of whom have never ever won it), and why you might want to hop on their wagon.
Eastern Conference
Montreal Canadiens
Standing: 1st in Atlantic Division
Player Worth Your Attention: Goalie Carey Price is having an historic season, leading the league in save percentage, goals allowed, shutouts, wins, everything. A shoo-in for the league's MVP award (the Hart Trophy), Price is having a Michael Jordan kind of season.
Should I Root for Them: Do you like Jurassic Park? Montreal hasn't won a Cup since Jurassic Park came out. There's that new Jurassic Park movie coming out this year. That'd be neat, right?
Versus
Ottawa Senators
Standing: 4th in Atlantic Division
Player Worth Your Attention: While goaltender Andrew Hammond has been playing out of his mind lately, it's rookie forward Mark Stone who has done more to turn the Senators into unlikely contenders. With six goals in the last five games of the season, he's riding a lot of momentum.
Should I Root for Them: Absolutely. It was still only a few weeks ago that the Senators' missing the playoffs was a foregone conclusion. Hammond has only recently emerged as a hot goaltender. The Senators are Rudy. The Canadiens are the team from Remember the Titans; you can't be an underdog when you win all the time.
Tampa Bay Lightning
Standing: 2nd in Atlantic Division
Player Worth Your Attention: Captain Steven Stamkos has 43 goals this season, good enough for 2nd place in the league. He broke his leg last season; it was gross. The Lightning have a whole other line of awesome forwards, but Stamkos is the superstar for a reason.
Should I Root for Them: With the Carolina Hurricanes out of contention, Tampa Bay is your best bet if you're into weather.
Versus
Detroit Red Wings
Standing: 3rd in Atlantic Division
Player Worth Your Attention: Veteran Russian center Pavel Datsyuk can still outplay guys half his age. I'm trying to think of a basketball equivalent, but I don't know the names of any Harlem Globetrotters.
Should I Root for Them: This is the 24th consecutive playoff appearance for the Red Wings. That's impressive, but it also means more of their dumb octopus thing. I guess you should root for the Red Wings, if you just really like Robocop.
—
New York Rangers
Standing: 1st in Metropolitan Division
Player Worth Your Attention: Left winger Rick Nash was drafted first overall by the lowly Columbus Blue Jackets in 2002, where his greatness went wasted for nine season, before he finally jumped ship. After a rocky, injury-marred start with the Rangers, Nash is an offensive force, who only sometimes plays like a scared baby. Like Stamkos, he has 42 goals.
Should I Root for Them: The Rangers have the best regular season record. They're strong and, statistically, better than all the other teams. Rooting for them would be like wanting Ivan Drago to beat Rocky. Maybe that's your thing, though.
Versus
Pittsburgh Penguins
Standing: 4th in Metropolitan Division
Player Worth Your Attention: NHL darling and Canadian hero Sidney Crosby makes anyone he plays with better. Unfortunately, everyone he plays with has been garbage this year.
Should I Root for Them: Penguins goalie Marc-Andre Fleury gets spectacularly mediocre in the playoffs. He's coming off a great regular season, so you have to ask yourself if you'd rather see a guy persevere in the face of past failures, or crumble under the weight of his own psyche. Go Rangers.
—
Washington Capitals
Standing: 2nd in Metropolitan Division
Player Worth Your Attention: Left winger Alex Ovechkin and his one eyebrow have a league-leading 53 goals. People rag on Ovechkin for being defensively irresponsible, but he plays a physical game, and he's a lot of fun to watch when the Caps get a power play.
Should I Root for Them: Of the teams who clinched a playoff spot early, the Capitals are the biggest underdogs. Perennial losers, they've never won a Cup despite 24 playoff appearances. Ovechkin deserves one, and his window to earn it on his own merits is getting smaller every year.
Versus
New York Islanders
Standing: 3rd in Metropolitan Division
Player Worth Your Attention: Superstar center John Tavares was second in the league in points (goals + assists). His slightly more responsible play will make an interesting contrast to Ovechkin.
Should I Root for Them: Just like your friend who takes his own French press into restaurants, the Islanders are moving to Brooklyn next year. It'd be nice to see them win a Cup for their current fans, who don't know anything about Arcade Fire.
Western Conference
St. Louis Blues
Standing: 1st in Central division
Player Worth Your Attention: The Blues are stacked with plenty of tough forwards (and U.S. Olympic shootout hero T.J. Oshie), but right winger Vladimir Tarasenko can take over a game seemingly whenever he feels like it.
Should I Root for Them: They're long overdue for a deep run, falling victim to the Blackhawks or Kings the past three years. Their physical style is built for the playoffs, and they've got enough big names on their roster. If you're going to dig deep and really get into hockey, the Blues are a great team to watch.
Versus
Minnesota Wild
Standing: 4th in Central Division
Player Worth Your Attention: Team points leader Zach Parise, born in Minneapolis, is probably eager to win a Cup for his hometown. He's also probably eager to earn that 13-year $98-million contract they gave him in 2012.
Should I Root for Them: Parise wasn't the only big acquisition the Wild has made in the past three years in an attempt to be real contenders for the first time. Ryan Suter and Thomas Vanek also hopped aboard the Wild's payday train. It's hard to look like the Yankees with the NHL's tight salary rules, but the Wild come close, and it's only gotten them a wild card spot in the playoffs.
—
Nashville Predators
Standing: 2nd place in Central Division
Player Worth Your Attention: 20 year-old Center Filip Forsberg leads the team in points in his first full NHL season, but veteran defenseman Shea Weber is under pressure to look worthy of the most expensive contract in the league.
Should I Root for Them: Nope. Every time the Predators score a goal at home, the arena plays a special version of Tim McGraw's "I Like It, I Love It." Trust me, you don't "want some more of it."
Versus
Chicago Blackhawks
Standing: 3rd place in Central division
Player Worth Your Attention: The Blackhawks are stacked, but the team is built around the skills of center Jonathan Toews. Keep an eye out for him. He's wearing #19 on the back, and a confused face on the front.
Should I Root for Them: Chicago is a great team. They've got skill and leadership and solid goaltending, but I can't shake the idea that they're the Zack Morris of the NHL, just a little too handsome and cool. So if you like Zack Morris, or the movie Top Gun, or the New England Patriots, knock yourself out.
—
Anaheim Ducks
Standing: 1st place in Atlantic Division
Player Worth Your Attention: Corey Perry has 33 goals this year. The right winger has a great shot, but he's also a short-tempered dummy sometimes, which can be fun.
Should I Root for Them: The temptation is strong for a casual viewer to rely on a vague memory of the Disney movie when watching hockey. You'll want to shout "Flying V!" or "Knuckle Puck!" at the TV as you watch the Ducks, who were sold by Disney years ago and haven't called themselves Mighty in almost a decade. Everybody will hate you. Go watch Fulton in the new Daredevil show and leave us alone.
Versus
Winnipeg Jets
Standing: 5th place in Central Division
Player Worth Your Attention: The Jets have a few goal-scorers, but giant defenseman Dustin Byfuglien is the guy to watch. He won a Cup years back with the Blackhawks before being shipped off for salary cap reasons. Like Prince Fielder, Byfuglien gets mocked for his size, but I think football fans will appreciate seeing him use it to his advantage, if he can keep his cool and avoid another suspension.
Should I Root for Them: Probably, yeah. I'll write more about my complicated feelings with the Jets later (I was a big Atlanta Thrashers fan), but nobody thought the Jets would make it this year, or any time soon. The franchise has only played two playoff games and lost both of them. Maybe it's time.
—
Vancouver Canucks
Standing: 2nd place in Atlantic division
Players Worth Your Attention: Though they are freakish, identical twin superstars Daniel and Henrik Sedin are amazing on the ice together. Their one shared Swedish brain allows them to find each other, even against a tough defense. They'll remind you of those ugly twins in your elementary school that made you first question God's existence (Why make two people the same, if they're going to be so gross looking?), but they're also exceptional hockey players.
Should I Root for Them: The Canucks have never won a Stanley Cup, losing in the finals most recently to Boston in 2011. So that would be a good reason to cheer them on. Or maybe you're a twin, too? What's that like? It bet it's weird, right?
Versus
Calgary Flames
Standing: 3rd place in Atlantic Division
Player Worth Your Attention: Center Sean Monahan has an impressive 31 goals in his second NHL season, but, like most of his teammates, he's never played in the postseason.
Should I Root for Them: The Flames looked promising at the beginning of the season, but things got bleak when their star defenseman Mark Giordano's season ended early due to injury. Of all the teams with claim to any underdog status in the playoffs, the Flames are probably the…underdoggiest. Last Thursday night, they were giant killers, knocking last year's Cup-winning L.A. Kings (who have a history of being fantastic only in the postseason) out of playoff contention. They're younger and hipper than Vancouver, like the new Star Trek movies. Give them your love if you like lens flares.
——–
Predictions/Desires
I love surprises in sports. Before the Kings became the two-Cups-in-three-seasons monster they are now, they were a lowly eighth seed, blazing through everyone they faced. Equally exciting and nutty would be an Islanders-Flames final, or the Predators winning the whole thing. More likely, the Rangers and Blackhawks powerhouses will emerge, and whichever team is the least banged up by the journey will win the whole thing. For the sake of picking a side, I'll say Rangers in 6 games.