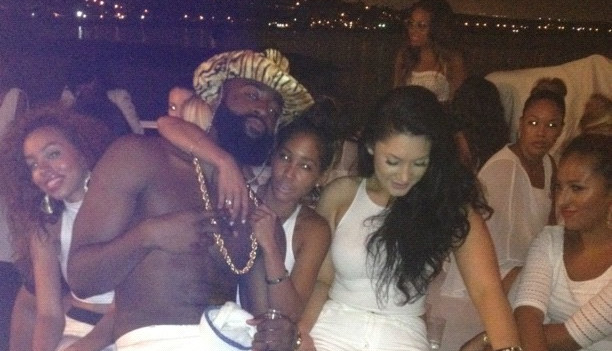 Playoff Preview: the Western Conference
Look, I've been a basketball fan for about as long as I can remember, which is at least three or four years back. Everything before that is grey and hazy, punctuated by lucid moments of drunken first kisses, failed writing projects, and that one time I got my wisdom teeth removed. During my few years of functional memory, I've amassed a dizzying amount of NBA-related advanced stats and metrics, team and player histories, and perspicacious "eye tests" that grant me unparalleled insight into the world of professional hoop-ball sports.
Over the course of the next week, I will be your guide to the ins and outs of each Western Conference NBA playoff contender. I will provide you with a guide to four teams, including a breakdown of their playstyle, a brief profile of their stars and role-players, and surprising facts that you can use to astound your friends and coworkers. With any luck, you can use my expertise as a betting guide. And hey, who cares that the games have begun? This shit is real.
So, without further ado, I present to you the top four Western Conference teams.
Golden State Warriors
By now, we've all seen their gaudy win-loss ratio. We've watched Steph Curry's foray into television advertisements in addition to his tricky ball handling, turning him into a true "crossover" star. Ha ha! Jokes! The superlatives ladled on the Dubs' team-first playstyle and three-point proficiency have been nearly endless this season.
But I want it to end. Seriously, do you have any idea how annoying it is? Who cares about them? Their logo's thin linework is effete in its pastel intricacy, and everyone knows that yellow is a scientifically ugly color. At this point, everything that can be said has already been said about the Warriors. Let's just skip straight into what can't be said about 'em, eh?
Andrew Bogut, their oft-injured center, is a real stand-up guy. He's a sweetie pie with a jelly-filled heart. Most NBA players and fans agree that Bogut looks like grade-A friend material, and that he definitely doesn't seem like a chronic nose-picker.
Steph Curry's goatee looks fantastic.
The Warriors will definitely make it past San Antonio.
I think that's about it. That's about all that can't be said about them.
Memphis Grizzlies
While most NBA teams are all about the buckets, Memphis is all about the ducats.Marc Gasol bathes nightly in his solid gold jacuzzi while drinking Châteauneuf-du-Pape. He pours some of the wine into the bathwater and watches the liquid turbulence abut the metal confines of the tub. "Red and gold! Red and gold!" he sings, invoking the colors of his flag. It is a good time to be a Gasol. He will be relaxed and probably a bit drunk for most of their playoff games.
Zach Randolph replaced his bones with rolls of quarters. You don't want to get hit by him, man. Costly bone-replacement surgery notwithstanding, Randolph is a notorious tightwad. Aside from a steady supply of Hungry Man dinners and a fresh pack of headbands daily, he lives frugally (almost annoyingly so). He stores most of his money in bullion, which he insists on carrying with him to every away game so that he can keep an eye on it. Count on his monetary insecurity to distract him more each game. He will be useless past the fifth match in any series.
Vince Carter is old, but he's your favorite player. You love his crow's feet and laugh lines from decades of grinning happiness. And remember that one dunk? It's what made you love basketball. However, you should be concerned by his love of classic cars, which he claims are a better investment than either gold or real estate. But his dubious speculative strategy doesn't end there: aside from a couple daily commuters, Carter stashes his cars around his property: under his mattress, in the walls, and in various holes in his backyard. Yes, Carter is an all-time great, but even you have to admit, he doesn't know how to align himself for future success.
Look for the Grizzlies to exit the playoffs in the first round or early in the second.
Nick Calathes is the only person on the team clamoring for a win, but alas, in a team that loves money, nobody wants to trust the Greek right now.
Houston Rockets
Watching James Harden should be an inspiration to all of us. He has single-handedly turned the Rockets into a playoff-worthy squad. Not only that, he's leading the NBA in scoring right now with 27.5 points per game. So fast, so slippery is he with the ball, that referees frequently award him points just for appearing to shoot. No other player in the NBA garners the same official reverence. Lastly, and frankly, this may surprise you, he's managing all this while weighing a scant 17 pounds. Looks can be deceiving! Yet how else can you explain his tendency to slip, fall, get knocked about like a cat's ball of string, and otherwise go careening off-balance into fans and other players at the slightest touch? How else can you explain the way his head jerks back at the minutest contact like a giant bearded Pez dispenser? You can't. 17 goddamn pounds.
Dwight Howard is the other superstar on the team. Have you seen his smile? His sharp haircut? His broad, muscular shoulders? Howard is basketball's most beautiful player. But beauty alone isn't enough to keep Howard happy. He wants rings. Lots of them. And he'll stop at nothing to get his prize. Interestingly, Howard's charisma, determination, and healthy self-interest are precisely the things that will help him get elected in his inevitable run for political office.
Whereas the Rockets stars are certainly gods among men, their team playstyle is star-dependent. You can't trust the next man in line to step up if someone goes down. They're a glass cannon. They're a house of cards. They're a game of Jenga played by really drunk toddlers. Despite some heroics by individual players, the Rockets are again destined to drop out of the race before the Western Conference Finals.
And here's a bit of trivia for you: the Rockets' name historically doesn't have anything to do with Houston's ties to the space program. Sure, it's convenient, but it's also coincidental. SUck on that, Houston.
Portland Trail Blazers (Reader beware! This is "my" team.)
The Blazers have the best logo and the worst mascot in basketball. "Blaze" is a "Trail Cat," which is a thing that doesn't exist. Most people agree that Blaze should also not exist.
This was Portland's year to compete in the Western Conference Semifinals. Everything was going as planned. But then Portland happened. Portland Portlanded.
Nicolas Batum felt the weight of the world on his shoulders over the summer, and by "world" I mean "France." After carrying his team to a 3rd-place finish in the FIBA World Cup, Batum had no time to recover. Early in the 2014-2015 season, Batum injured his wrist trying to dunk a banana peel against The Bucks, but Larry Sanders pushed him, that jerk. He aggravated it again while peeling a banana on the bench against The Celtics. Against the Thunder, he banana peeled his knee. His back and his wrist had already caused him to miss games and play like a total jabroni this season, so who knows what the knee's gonna do.
And guess who's playing with two injured thumbs and loves banana peels? That's right, it's LaMarcus Aldridge. He's still scoring, rebounding, and drawing double teams, but he can't get the stinky-sweet smell of pain off of his hands.
Joel Freeland wrecked his shoulder trying to block a dunk attempt and has only recently returned to semi-active duty on the roster. His play is limited, owing to recovery from prescription banana addiction.
Wesley Matthews slipped and fell on a banana peel, rupturing his achilles tendon. The team hasn't been the same without him. I guess you could say that Matthews was the team's achilles peel, huh? It is the fucking worst.
Robin Lopez broke his hand whipping a mascot with a banana.
Dorell Wright broke his hand in a freak accident with a you-know-what.
Arron Afflalo, newly-minted Blazer, took part in the fun by getting hit awkwardly in the shoulder by a banana peel thrown by an unruly fan.
CJ McCollum, Portland's biggest bench-scoring hope, is no stranger to injury. And yet against the Thunder, he sprained his left banana.
Nobody is safe. Damian Lillard spends half of every game helping a hobbled Aldridge up and down the court. Meyers Leonard, the 7-foot MechaBieber, still has a child's face and child's nightmares about fruit-related injuries. Allen Crabbe, whose new beard grants him +6 charisma at the cost of some aerodynamics, claims that while shopping at his local grocery store, the price of bananas per pound was, "Allen Crabbe, you're next!" Alonzo Gee, Portland's new acquisition, when asked how it feels being next in line for near-certain catastrophe, shrugged to reporters: "Banana happens."
Look for the Blazers' 3rd stringers to show flashes of promise (and even brilliance) in an otherwise disappointing early exit.
What's next: Stay tuned tomorrow for part 2!