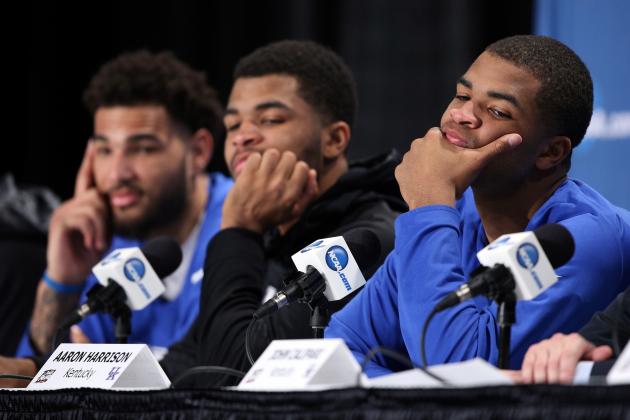 Do you hear this? Do you? It's the sound of Drake packing his luggage and moving his cumbersome need for validation out of the beautiful state of Kentucky, land of bourbon. Hopefully forever. Yesterday, the seven lead scorers of the Kentucky Wildcats have declared for the NBA draft. What the hell does it mean, exactly? Is it the end of the University of Kentucky's dominance in college basket-ball. Is John Calipari going to leave for the NBA? Are seven new all-stars jointing the NBA? What the hell is going on?
Let's break it down.
Karl-Anthony Towns (C): Great decision. Easy decision too. Whoever has top 5 pick buzz needs to declare for the NBA draft, otherwise he's be only losing money. If you forego millions of GUARANTEED dollars in order to get your college degree, you're an idiot. Towns is a big, physical and versatile center who's going to bully NBA players in the paint for the next decade. It's a win-win-win situation that he declares. Towns makes money. An NBA team (hopefully the Knicks) get a franchise center and University of Kentucky makes space for another game changing big.
Willie Cauley-Stein (C): Everbody knows that Willie Cauley-Stein's a special, albeit offensively limited player. It hasn't seemed to have dawned upon him until this season though, where he became the de facto leader for a squad of freshman prodigies. It's simple, Cauley-Stein is the second coming of Tyson Chandler and I don't know who wouldn't want one on their team, in a basketball era where all centers are required to do is protect the rim and serve as pick-and-roll targets. It's a great decision to go pro. I could see Cauley-Stein flaming out in a difficult situation like, I don't know, if the Sacramento Kings draft him and bury him behind Boogie for 3 years, but otherwise I think he'll have a strong NBA career.
Trey Lyles (F): The cool thing to say in the scouting circuit right now, is that Trey Lyles is sneaky good. It's a catch phrase, like motor or upside. Trey Lyles is sneaky good. It's a sentence you have to take in context though.
Why was he sneaky good, last season?
The Canadian combo forward played major minutes, providing a sometimes much needed offensive spark off the bench. He is not the most athletic guy in the world, but he can shoot from the perimeter, handle himself on the block, finish at the rim and he manages NOT to be a liability on defense. He's been sneaky-good because he was never the go-to guy for his team. His decision to declare is a sneaky good one too because if he manages to land on a team with go-to scorers already, he's going to blend in the roster and do what he does best. Pick up the offensive slack.
Devin Booker (SG): Here's what we know about Devin Booker: he's a dead-eye perimeter shooter, a fantastic athletic and a rather clean defender. He's a considerably less gritty spin off Wesley Matthews. I believe it's enough for him to become a first round pick. He already has the set of skills that's demanded from most shooting guards nowadays. We didn't see all too much of him this year, though. Has he foregone an opportunity to become the leader of Univetisty of freakin' Kentucky by declaring? The jury is still out as whether Booker has made the right choice or stunted his growth by declaring for this year's draft, but either way he's going to figure it out and become a productive NBA player.
Andrew Harrison (PG): This is tricky. Andrew Harrison came from high school with a 5 Stars recruit pedigree and a world of expectations. Unfortunately, the Harrison twins made the wrong choice of college and kind of folded under the pressure of national media scrutiny. Andrew's a 6'6 point guard who can get to the rim almost at will, but he doesn't seem to understand that or to have go-to moves he can use to create offense. He's a streaky scorer and an average passer at best. Seems like the twins should've chosen a smaller college that would've given them more 1 on 1 attention. I would've like him to stay one more year, just to see if the light bulb would go off like in Willie Cauley-Stein, but it's not going to happen. Andrew Harrison will play in the NBA next year and will earn a living being what he is now: a streaky scoring rotational point guard.
Aaron Harrison (SG): Aaron is often referred to as "the other Harrison". Well, the other Harrison should've stayed in college. He's a knockdown perimeter shooter with a tendency to get hot and hit clutch shots, but he doesn't do any much else right. I see him getting drafted at the end of the second round and making a living in the NBA running from corner to corner, waiting for passes and shooting 35 to 40% of his 3 point shots. It was a bad decision for him to declare. I don't say it all that often, but I think Aaron Harrison would've benefited four solid years of college before trying his luck in the NBA. The business won't be kind to him.
Dakari Johnson (C): Bleacher Report's Jonathan Wasserman (whom I respect) called Dakari Johnson out for declaring for the NBA draft too early, but I respectfully disagree with his statement. Dakari Johnson is going to find a taker in the NBA and might even find his way to a starting lineup as a stopgap option during his career. He's a 7 footer and 7 footers are voodoo for NBA scouts. It's a psychological thing. There aren't all that many 7 footers in the NBA and teams love having them, nurturing them and transforming them into savage beasts of defense whenever they can. Sure, Johnson isn't the most athletic and his game his basic, but his size is going to secure him a spot on a team. NBA coaches love having big bodis clogging the lane. Plus, his situation wouldn't have improved next year in Kentucky, for reasons I'm about to get into.
All right, University of Kentucky's seven top scorers have left, but who is there left? Does John Calipari has something to build on? Of course he does. Actually, he's got some interesting pieces for another tournament run. Don't count the Warlock of Lexington out, just yet. He could make it work with what he's got right now.
Marcus Lee (PF):I.LOVE.MARCUS.LEE. I think he's tailor-made for the NBA. He's super athletic, physical, runs the floor like a gazelle and has that happy, energetic attitude that coaches love. Who cares if he can't play an intricate brand of basketball. He hasn't got a fair shake over his first two years in Kentucky, but it's going to change next year. John Calipari is going to use him in the starting lineup and have him help freshmen develop quicker. Lee took the best decision of the day, staying in school. He's got a Kenneth Faried-like energizer bunny game and the fans are going to be crazy about him. I'm going on a limb here and say he'll be a top 10 pick in 2016. That's how highly I think of him and his decision to stay.
Tyler Ullis (PG): Not enough data. I haven't seen him all that much, this year.
It's not all though, there are two 5 stars recruits coming in, next year and we're talking killer recruits here. Let's break down what they bring to the table.
Skal Labissiere (C): Labissiere and Ben Simmons are the two rookies I cannot wait to see on an NCAA court. I heard so many stories about Labissiere already, about how his recruiting process was a complete mess and that he might not play a single game in the NCAA. That his legal guardian's asking everybody how to make money off him. I've seen him in action too and it's quite fucking impressive (pardon my french). He moves with the speed and the grace of a guard, shoots threes effortlessly and…and…he's already 7 foot tall. He's one of these kids. He was 6'10 last October and now he's 7 feet. Who knows how tall he'll be when the season starts?
Isaiah Briscoe (PG): Probably the most athletic point guard in Kentucky since John Wall in 2009-10. I don't know him as well as I know Skal Labissiere, but I've seen a couple tapes of him, for he was one of the most recruited high school kids this year. Everybody thought they had a chance at him. He's very quick and agile and he doesn't seem to use his physique to bullrush through people on every occasion, which I thought is an interesting wrinkle to have in your game this early. He's been told to have a very lackadaisical approach to basketball at times, but I'm sure John Calipari is going to transform him into a solid floor general.
The bottom line is: NBA has inherited seven talented kids who will be around the association for several years, but it's not the end of the road for the University of Kentucky. Not at all. I see another DEEP tournament run in my crystal ball, whether you like it or not. John Calipari is paid to make this happen and he still had the pieces to.