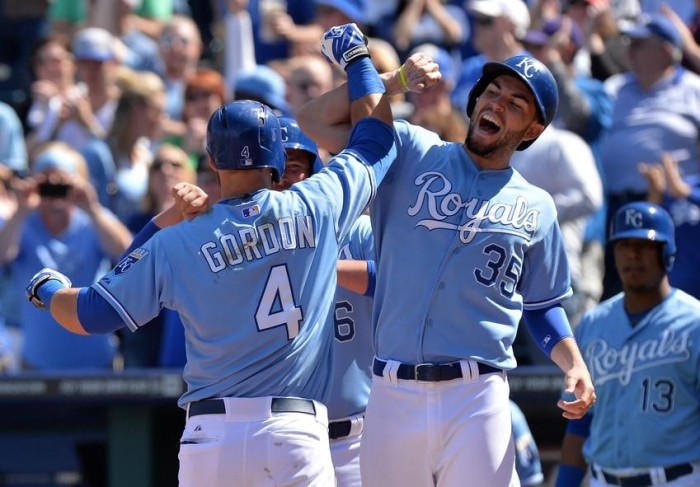 OFFSEASON
Last year was nearly a nightmare scenario for FOX & MLB—two of the smallest market teams based in the same state almost played each other in the World Series. While ratings would've been blockbuster in Kansas, Missouri, Nebraska and Southern Illinois, there aren't a lot of people in that region. Luckily the Giants beat the Cardinals and kept the ratings alive by bringing one of the left coast markets into the fold. The Kansas City Royals, who lost the whole affair by one point and 90 feet, aim to keep the the AL side of the fall classic a small market affair annually, and they have a window to do just that over the next couple years.
The Kansas City Royals 2015 Season all comes down to upside. Or expectations. Or exceeding expectations. Or befuddling the league two years in a row. Many writers and fans do not view the reigning AL Champs (feels great to say that) capable of repeating last year's amazing run.
This offseason, they lost their best hitter and pitcher (ostensibly) in Billy Butler & James Shields, but letting them walk might actually be smart moves; not investing in aging players who may be past their prime is a must for a team that plays in a tiny market. They also, according to Forbes, nearly doubled their value due to that World Series run. Last year the team was valued at around $450 million. Now? $700 million. That may mean a little bit more to spend on free agents in the future, but for now they're playing it safe.
Another consequence of their nearly storybook run was to reignite my hometown of KC into a baseball town, just like it was from the late 70s through the eighties and until the early nineties, when George Brett was Royalty in The City of Fountains. In a storybook run last year, they SWEPT the ALCS and ALDS and went to the World Series for the first time in almost 30 years. Why did I come back to baseball after nearly 20 years of not paying attention just in time to catch this amazing run from beginning to end—from spring training all the way to that final, fateful out? It seems crazy to me that just when I had the free time and headspace to be able to pay attention, something magical happened. I'm glad it did and I hope it's the beginning of a new golden age for my team and our town.
ROSTER SUMMARY
The Royals front office is betting on LOTS of bounce-back seasons this year. They are hoping players up their game in RF, 3B, 1B, from several pitchers AND their DH. If they pull this off, they will seem like geniuses. If they don't they will look like fools.
Royals fans like me have a little more faith in GM Dayton Moore now, who has been orchestrating the team we saw last year for SIX YEARS. He inherited basically the Indians from the movie Major League and turned it into one of the best run systems in baseball. They also play in the smallest market in the MLB, so every dollar must be spent shrewdly. One thing he has done to great success is trade highly touted prospects for win-now veterans. Also, due to financial constraints, and the fact that before 2014 no high-value free agents wanted to come to a team with nearly 20 years of losing seasons, the team has avoided handing large contracts to older players which limits options and saddles a team with paying / playing a slow, fat 38 year old has-been 20 million dollars a season (see Yankees / Phillies).
C: Sal Perez
Ok, if you are reading this right now you need to stop what you're doing and look at Salvy's Instagram feed @salvadorp13, particularly his videos where he fucks with Lorenzo Cain. They are hilarious, and adorable. The other great thing about Salvy is that he's like a 19th century catcher with a scarred up visage & permanent fat lip from taking foul balls off his face. Combine this with his ESL skills, and the guy is completely unintelligible, but you can just tell how smart and funny he is. He's probably the second best catcher in baseball, and set a MLB record for games caught last year which resulted in some fatigue down the stretch, hence a lack of plate discipline. It's possible he gets more rest days this year, but good luck prying him out of his gear and pulling him away from behind home plate.
1B: Eric Hosmer
Hoz was my 2013 man crush, but now he's like everybody's man crush so I've moved on. He also has this stupid fauxhawk thing he calls 'The Hoz' and it's all the rage with KC's bro set right now. It was cool how he bought like $20,000 worth of drinks for all the fans who met up with him at some bar after the Wild Card Game, but what we could really use from him is like 10 more home runs a year.
2B: Omar Infante
Infante has battled a bad back and bone spurs in his throwing elbow ever since showing up in KC last year. He could have had minor surgery to fix his elbow in the offseason but for some reason did not. Those issues are back again, and he's also probably in the decline phase of his career at 34. Basically he's not the same guy the Royals wanted when they got him from Detroit, and they tried to trade him in the offseason. Look for lots of off days or even being benched for Colon. The team also signed a 37 year old Rafael Furcal to a minor league deal so if Infante sees time on the DL, Furcal could replace him. This is only year two of a four year deal, probably the worst contract for the club.
SS: Alcides Escobar
You may have seen his gilded Land Rover on Twitter, and you've definitely seen his ridiculous defensive skills. He's so intent on making Web Gems that he occasionally misses easy plays by trying to be fancy. He seems to have up years followed by down years, and 2015 could potentially be a down year as 2013 was. If he puts up numbers like that again and he bats leadoff, it could be a long season.
3B: Mike Moustakas
It's been speculated that Moose finally figured things out during the postseason last year, hitting 5 homers and keeping his batting average above the Mendoza Line. That would be great if true. The shift has absolutely slayed his numbers and he used to try to pull everything, but from what I've seen of him in spring training he looks like he's trying to hit the ball the opposite way, and just bunting to beat the shift. If he doesn't figure things out this year he could be benched for Colon or worse. He's still a big part of this club, but his numbers have to improve over last year. A forgotten footnote to last year's WS narrative is that the club actually sent him to the minors for a few weeks last year due to his struggles at the plate.
LF: Alex Gordon
Gordo had minor wrist surgery in the offseason but is already back in the lineup trying to get his timing back. He looks pretty good, after an initial struggle. I'm sure he'll be great this year. He added a Platinum Glove to his trio of Gold Gloves and was in the mix for MVP last year before going through a second half slump after an injury that kept him out of the All-Star Game.
CF: Lorenzo Cain
The breakout star of the Royals postseason looks as good as ever in spring training and if he can stay healthy, it's possible he could be an All-Star and finally win a Gold Glove. Defensively shifting him to LF late in games and injury downtime kept him from getting one last year, which is a crime. As the MVP of the ALCS, Cain has been receiving his fair share of national attention, endorsement deals, etc. Exciting stuff, if you're a KC fan.
RF: Alex Rios
The dinged-up former All-Star signed in the off season and has never been to the playoffs. The Royals tried to trade for him mid-year last year, but the team was on his Do Not Trade list. Then he watched the team who tried in vain to bring him on do what he's always dreamed of (and having a blast doing it). He signed a 1 year deal and hopes to contribute to another postseason run. He's hungry too, and could be a key factor if he's healthy. His thumb that troubled him all season last year has kept him out of a few games in spring training already, so who knows.
DH: Kendrys Morales
They have signed (for a lot of money) a rotund, goofy-looking fool named Kendrys Morales, who in 2010 broke his ankle celebrating hitting a home run. He didn't come back from that for TWO YEARS. They are hoping they paid for the man he was prior to that injury, not the guy he appeared to be last year, which was basically an overweight, washed-up ex home run hitter. I have no idea why they didn't pick him up for a song. They paid him as if he was a real, bonafide DH.
STARTING PITCHERS
Damn it feels good to have too much depth. While I have questions about a couple of these guys, if anything bad happens there are several others waiting in the wings to pick up the slack. Two young flamethrowers and three league-average veterans make up this rotation, for now.
Yordano Ventura
You gotta love any pitcher nicknamed 'Ace' Ventura, and you love him even more when he blows away hitters with a 100 mile an hour fastball and is under 25. Well, here we are, Ace. Do your thing, and maybe win a Cy Young Award somewhere down the road. Oh, and please don't blow out your elbow this year. Do that later on when more of our SP prospects are ready.
Danny Duffy
Pulling for Duffy to throw at least 150 innings. He is a somewhat flawed lefty power pitcher, and when he's on his game, his stuff is unhittable. He's already been through TJ surgery, and a nagging rib injury kept him from becoming famous during the playoffs though I suspect nerves may have been a factor there as well. He is a bit of a head case, and even left the game of baseball for a year in his early 20's. Danny said some downright stupid stuff during spring training last year about how he wanted to go to the bullpen, but that was all straightened out after a couple of rocky starts and a dressing down on the mound by pitching coach Dave Eiland. Since then, he's been absolutely on point and he's pitched great for the most part. He's only 26, and has seemed to mature a bit, saying all the right things in spring training so he could be a fixture to this rotation for years to come if he says healthy.
Edinson Volquez
An average pitcher who the Royals overpaid in the offseason, hopefully he does okay. He's been atrocious so far in spring training. EDIT: Pitched 8 innings of 1-run ball in his first start. Forgive me for ever doubting you, Eddie!
BABIP means nothing when you've got the Royals defense behind you.
Jason Vargas
After coming over from the Angels last season, Vargas was actually way better than expected, and Royals fans are hoping that something similar happens with Volquez. You see, with the Royals historically good defense and the cavernous dimensions of Kauffman Stadium, you could run just about any league-average starter out there and he could go through 30+ starts and 200 innings with an ERA of 4.00 and 15 wins.
A bit of trivia is that this year's rotation will be the first in MLB history to feature three starters with last names beginning with a V.
Jeremy Guthrie
Putting aside the fact that he's a Mormon, I do like Guthrie quite a bit. Sure, he walks a tightrope with every start, leaving you on the edge of your seat, but he never seems to actually get blown out (at least with the Royals defense behind him), he always gives up 4-5 runs but he is so smart and has such a great backstory that I just have to root for him. His press conference before his first-ever World Series start was one of my favorite sports interviews ever. He also recently discovered that he is ¼ Japanese, and went to play in those MLB-vs-Japan exhibition games in the offseason so that he could meet some long-lost family members. Guthrie will be 36 this season, but shows no signs of regression (in fact he seems to actually get better every year) and looks about ten years younger than he is. Asians, man. They don't age.
Kris Medlen
A savvy pick-up in the offseason, Medlen is currently recovering from his 2nd TJ surgery. He has been throwing, and the Royals training staff is one of the best. If his recovery goes well, he could join the bullpen at the All-Star break, then eventually step into the rotation as a #2 or #3 starter and bump either Guthrie or Volquez (c'mon do we really expect him to repeat what he did last year with the Pirates?) to the bullpen. This is also the last year of Guthrie's contract, so Medlen will probably be a lock for the rotation in 2016.
Chris Young
Signed during spring training, this is another savvy pickup. Young currently serves as depth and is tabbed for long relief, but I'm sure we'll see a few starts from him before Medlen returns. He had a great season last year with Seattle, and the Royals defense seems tailor-made for a starter like Young. This will be his first time starting out a season in the 'pen.
Joe Blanton
Another guy I'm pulling for, but probably doesn't make the team. He serves as depth and has an opt-out at the end of spring training but has looked pretty good. The Royals may want him to start out the year in AAA Omaha's rotation, serving as depth and a worst-case scenario if everyone else dies or something. They've also said stuff about him being a reliever but they already have a gluttony of riches there. EDIT: He's accepted his fate in Omaha. Hooray!
BULLPEN
So last year's relief corps was historically one of the best all-time MLB bullpens. They've actually somehow added to the crew this year, and weeded out just about anyone who can't put up numbers like an ERA of 1.99 in 70+ innings. The coolest thing about this bullpen is that any one of them (except Louis Coleman) could be another team's closer.
Greg Holland
Broke the Royals single-season save record last year, and that's while going down with an injury for part of a month. It's possible he could regress a bit this year, but he's in his prime and should put up great numbers again. Much has been made of the Royals "three-headed monster" of HDH, Holland-Davis-Herrera, and many thought the team would trade away at least one of these arms. They didn't, so basically if you don't get at the Royals starters, you've lost the game already.
Wade Davis
Failed starter who turned in possibly the best season ever as a relief pitcher last year. When life gives you lemons … Will return to his setup man role. I like to watch him pitch. He did not give up a homer in 2014. His ERA was 0.69 through mid September. He broke the Royals all-time single season K record by a reliever (set by the man above in 2013). He looks permanently embittered, and if he doesn't strike a guy out he gets pissed at himself.
Kelvin Herrera
When your 7th inning guy could be the closer on just about any team in the majors you're doing something right … or wrong? It might be smart to trade one of these guys for someone who can hit, but due to the volatile nature of relief pitchers they don't hold a lot of value in trade talks. Herrera is only 25 and he didn't give up a homer in 2014 either. He is a candidate for regression, however. He also has a tattoo that says 'HERRERA' on his pitching arm, you know. Just in case he forgets out there on the mound.
Jason Frasor
Veteran guy who came over from the Rangers midseason last year and put up pretty good numbers. When he's like your 4th or 5th option, that's pretty great.
Ryan Madson
Madson's a great comeback story. He's been great in spring training, after taking about 3 years to recover from TJ surgery back in 2011. You may remember him as the Phillies closer back in the day. He's 34, but he seems to have something left. Makes me feel like even though I'm in my mid thirties I could still live out the dream of my 19 year old self, being the frontman in a crust-punk, electroclash band. Or have my own furniture design studio. Whatever.
Luke Hochevar
The longest-tenured Royal returned for some reason, even though his contract ran out last year and TJ surgery kept him out for all of 2014, the team resigned him this offseason. A longtime shitty starter, he put up great numbers in 2013–his first year in the bullpen. Will start out the year on the DL. If he can return healthy at some point before the All-Star break, he will just add to the insane bullpen depth.
Bryan Flynn
Should probably be at AAA Omaha being stretched out as a starter (EDIT: he is), but this big lefty will probably make the club as a long reliever / lefty specialist. The Royals traded Aaron Crow to the Marlins for him in the offseason, a move that I really like. Crow actually just went down over at Marlins camp and will require TJ surgery, so this pickup looks even better.
Louis Coleman
Sidearmer (hello Sasha!) (Sasha says: sup bb) who is out of options and could possibly make the club. He is probably the worst option, but is good enough to be traded for something in return. We shall see. If you're trying to build a bullpen for the ages, Coleman seems like the odd man out in a competition for the last bullpen spot between him, Flynn and Madson. The problem is that anyone who doesn't make it is exposed and could be picked up by another team. EDIT: Coleman somehow made it through waivers and will start the year in AAA Omaha. Madson got that last spot. If Dayton Moore is reading this: TRADE HIM!
BENCH

Christian Colon IF 
Super utility guy who should probably be the Royals starting 2nd baseman, but for some reason they decided to sign Omar Infante so they could watch him play through pain for four years. Colon has really been a spark plug whenever he's put in at 3B, 2B or SS. Last year Esky played all 162 games at SS, so I'd imagine he'll mainly play 2B when Infante's sore or 3B when Moose can't be trusted against a tough lefty.
Jarrod Dyson OF
One of the best bench players in the game. He was so fun to watch in the playoffs, and if you Google him you can see some great gifs of his trademark "Vroom-Vroom" motorcycle revving, touchdown-style dance he does every time he steals a base. He's one of the fastest guys in the majors, save for another Royal named Terrence Gore. He also coined one of the Royals catchphrases from last season, "That's what speed do." You want this guy on your team. I think he's the only 52nd round draft pick to ever make it to the majors.
Paulo Orlando
is battling with Moises Sierra for 5th outfielder. It's looking like Orlando has a leg up on Sierra, and if he makes the club he'll be just the 3rd Brazilian to play in the majors. This could all be for naught, as Ned Yost has gone back and forth on whether he wants a 5th outfielder or an 8 man bullpen. Brett Eibner is also a dark horse candidate for this spot, as he hit 5 homers in spring training and hit nearly .400. He could get called up this year. EDIT: Orlando made the club and tripled in his first game in the majors.
OUTLOOK
The Royals play un-sexy baseball. At least they did last year. They had less than 100 home runs all season combined. That doesn't happen. That ESPECIALLY doesn't happen to an AL Champion Team. But basing the team on lock-down pitching and defense, then offensively sort of putting the ball in play and seeing what happens works for them. Listening to interviews with the team and staff, they sound even hungrier than they were last year. The World Series run was not enough. They want to bring home all the glory this time.
THE FUTURE
Watching the team in spring training this year, I can honestly say the future looks bright. While they might not have the insane group of prospects they had a few years ago, they do still have an entire rotation's worth of decent starting pitching prospects (including Brandon Finnegan, Sean Manaea, Kyle Zimmer, and Miguel Almonte) as well as enough position players who could play defensively in the majors right now (Whit Merrifield, Brett Eibner, Raul Mondesi, Hunter Dozier, Bubba Starling). For some reason however, developing hitters has always been an issue with the team under Dayton Moore. It might just be the fact that the system actually values defense more than offense, but I do see the lack of hitting as a major flaw with the prospects that are in the pipeline. Every one of Alex Gordon, Eric Hosmer, Sal Perez and especially Mike Moustakas looked like they were going to be monsters coming into the league, and all of them have struggled to figure out hitting in the majors.