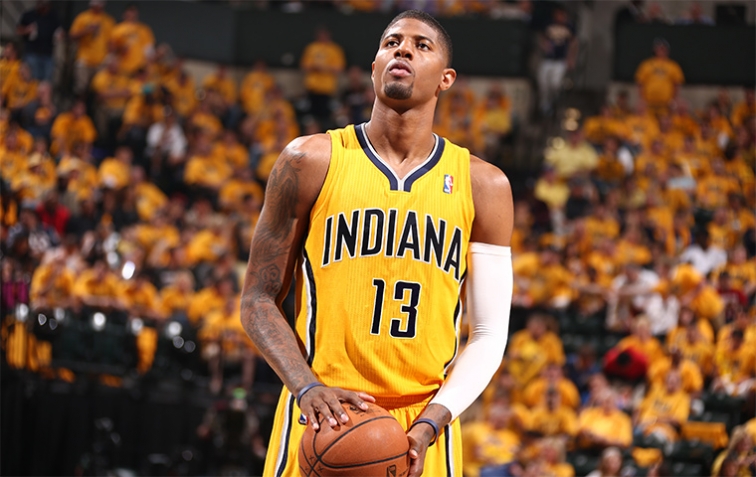 This NBA season has been one of the most exciting and unpredictable in memory. Part of that was due to the emergence of new star players in the constantly evolving play calling landscape of the associating, drawn by mad scientist coaches such as Jeff Hornacek, Quin Snyder, Steve Kerr, Mike Budenholzer and, of course, the immortal Gregg Popovich. But this new wave of NBA stars couldn't have emerged without a superstar hecatomb we had to suffer all season: Kevin Durant got screws loose in his foot, Kobe Bryant's last standing shoulder muscles gave out, one of Derrick Rose's knees betrayed him again and my personal favorite Paul George snapped his leg in half last summer during a Team USA scrimmage.
But the man they now call PG13 is coming back imminently (any day now, really) after months of hardcore rehab and there is a laundry list of reasons to get excited about this event. Here are a few.
Paul George is one of the 10 best players in the NBA
It's still unclear how it happened, but it did. About two years ago, the Indiana Pacers were on a treadmill to nowhere and their star player of then, Danny Granger busted his knee for something like the second time in three years. George used to be perceived as a Trevor Ariza type of player who could catch and shoot and play a little defense, but he was the best option on the floor for the offense-less Pacers then, so coach Frank Vogel made him the no.1 scoring option.
The explosion could be heard all over the Midwest.
Paul George figured things out and the result wasn't pretty for the opposing team. Sometimes you just need to give a man responsibility to see what he's made of and with the scoring bulk of his team on his shoulders, the swingman became an impossible cover able to create his shot off the bounce on the block as well as on the perimeter, who uses his slender frame to cut to the basket at will and who uses his length both to score over his cover and to defend the opposing team superstar.
Two-way wing players are the future of the NBA: Kawhi Leonard, Jimmy Butler, Wesley Matthews, Paul George is more talented and we're getting this guy back. He's an evil Hybrid of Scottie Pippen and Tracy McGrady. So pardon me if I am FUCKING STOKED to get him back before the playoffs.
The Pacers are doing good.
Nobody gave the Indiana Pacers a fighting chance in 2014-15 after Paul George got injured and Lance Stephenson fucked off to Charlotte. They didn't have a reliable scoring option. Roy Hibbert was falling apart. What else were they supposed to do, except losing? That's what they did for the first half of the season, racking a pitiful record of 15-30. But that group of hard-nosed, blue collar ballers figured out ways to pile them together, relying on Rodney Stuckey, C.J Miles, David West and the occasional outburst from Roy Hibbert in the post, in order to create the strict minimum offensive production in order to win games.
Now, the Pacers are knocking on the playoffs' door and they're about to get 20 points a game back, as well as some defensive stops. I'm sure they'll be looking to ease Paul George back into the mix, but they might not have to luxury to do so. He could save the season of the most likeable, yet unwatchable team in the association and scramble the cards of the playoffs. There are financial and social responsibilities of being a star player in a small market (as much as the franchise has financial and health-related responsibilities to the player) and Paul George has to live up to them. He has the chance of becoming immortal to the people of Indiana and I think he'll do everything in his power to live up to it.
The 7 and 8 seeds are up for grabs in the Eastern Conference
The Indiana Pacers are half a game away from the 8th and last playoff seed, two and a half games away from the 7th and one player away from being a legitimate threat to any team in the East. They could be playing the Atlanta Hawks in three weeks with a player able to lock down Kyle Korver, Paul Millsap and possibly Al Horford. Did I mention the Pacers also have Roy Hibbert who can stand between the basket and Horford to a certain extent? Opposing players still shoot for only 40% in the paint when he's on the floor.
They could also play the surging Cleveland Cavaliers and put Paul George guarding LeBron James. There would still be an issue of guarding Kyrie Irving and an unexplainably hot J.R Smith, but the Pacers have the tool to make it interesting. They're a tight knit group who rotate like a well-oiled machine on defense and the name of the game against the Cleveland Cavaliers is stopping their ungodly, inhuman, balletic scoring binges. Paul George and his Ringo Stars have the tools needed to throw a monkey wrench in this year's playoff and they could potentially take out the most difficult team in the East first.
Paul George vs LeBron James 2
Who am I kidding? We all want that, don't we? Two years ago, when the Pacers took the Miami Heat to seven games in the conference finals, Paul George and LeBron James entered a savage battle of will. They guarded one another all over the court, didn't let each other slide with a beautiful play without retaliating with one of their own. It was glorious, emotional and everything basketball has best to offer. Now that LeBron is back in Cleveland, offered himself a vanity season including a two week vacation to Miami and several questionable, non-basketball related headlines, wouldn't it be wonderful to have a special player standing in his way, pushing him before his comfort zone? Admit it, you want LeBron to go to war. I want LeBron to go to war. We all want LeBron to go to war. There's only one man capable of standing in his way in the East and this man's Paul George. Make it happen, basketball Gods.
A bone is not an ACL
Call me an optimist, but I believe we're going to have our Paul George back. As horrific as his leg injury has been, I consider him lucky to not have blown his ACL (or any tendons in the knee, really) because that's what ruins careers. Bones heal. They can be reinforced with screws and steel rods. His injury was such a freak incident that Paul George will not have to worry of repeating the past unwittingly. He might take a couple weeks, maybe a month before shaping back up, but we're getting our Paul George back, guys. The high-flying, hard-nosed Californian wonder is back in Indiana and I am SO. FUCKING. STOKED.