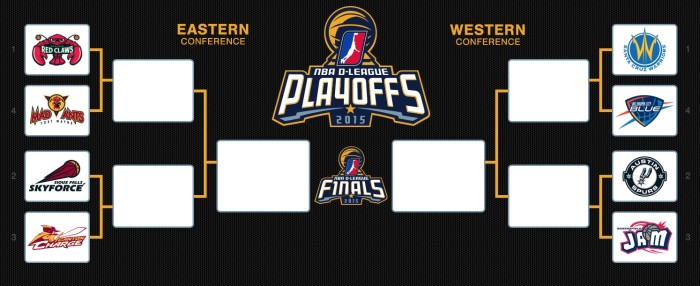 The
NBA D-League Playoffs
commenced on the same day the NBA
announced basketball camps in Cuba
, featuring Dikembe Mutumbo (
GEICO mascot
and
soon-to-be Hall of Famer
) and
Steve Nash
(2-time MVP and zero-time champion). While this development is exciting for the future NBA scouting and talent-well drilling, there are a whole host of players hustling (the respectable kind) like Billy Hoyle and Sidney Deane in the minor league system. D-League teams sometimes play in small venues (attendance gets down to around 500 for some) and there are no flashy camera angles.
The 2014-15 season saw the Santa Cruz Warriors (Golden State Warriors) and the Main Red Claws (Boston Celtics) lock down the best regular season records at 35-15 apiece. This year's playoff bracket features these teams and follows a best-of-three format throughout:
1. Maine Red Claws vs. 4. Fort Wayne Mad Ants 
Fort Wayne leads 1-0
Next Game: Saturday April 11 at 4:00pm ET on ESPN News
Fort Wayne won it all last year and they took the first game of this series 104-103 in overtime. Jordan Crawford scored a team-high 28 points (which took 28 field goal attempts), grabbed 11 rebounds, 6 assists, and 6 steals. Many pro basketball fanatics remember Crawford from his days suiting up for several franchises in Atlanta, Washington, Boston, Golden State, and in the Chinese Basketball Association. Forward CJ Fair also had 28 points and 5 rebounds.
For the Red Claws, Romero Osby's shot got blocked at the buzzer. A monumental failure for a team that was heavily favored, despite never winning a playoff game in franchise history. Osby had 24 points and 10 rebounds, while teammate Omari Johnson put up an impressive 21 points and 17 rebounds.
2. Austin Spurs vs. 3. Bakersfield Jam
Bakersfield leads 1-0
Next Game: Saturday April 11 at 1:00pm ET on ESPN 3
Bakersfield
jammed the hell out of
the Austin Spurs on Tuesday night, winning 117 to 79. I knew something was amiss when going over the team stats at halftime – both teams pulled down 4 rebounds each and combined for 19 turnovers. Bakersfield turned their night around thanks to the strong play of forward and Fresno State alum Renaldo Major, who finished with 25 points on 10-16 shooting and 8 rebounds. Not to be totally outdone, Xavier Munford drained 50% of his shots for 30 points, 5 rebounds and 5 assists.
The Spurs were outmatched most of the night – both on the court and off by a gaggle of rival fans clanging cowbells behind their bench (try to not picture Will Ferrell, dammit) – and ran around the court like frightened cattle. (Dammit, I pictured Will Ferrell).
1. Santa Cruz Warriors vs. 4. Oklahoma City Blue
Series tied 0-0
Next Game: Wednesday April 8 at 9:30 pm ET on ESPN U
De-fense! De-fense! Santa Cruz obliterated teams defensively during the regular season, allowing the fewest points per game. Led by Elliot Williams, Darlington Hobson, and Aaron Craft, the Warriors have talent and experience. During 2015, the 25-year-old Williams was called up to The Association thrice – by the Utah Jazz, Charlotte Hornets, and New Orleans Pelicans.
The Blue boast a ragtag group of (most-likey) misfits, led by Semaj Christon, Josh Huestis, and point guard Marquis Teague (aka the little brother of NBA All-Star Jeff Teague). Marquis was never really given a chance in the NBA, as he rode the bench for the Brooklyn Nets and Chicago Bulls, despite Derrick Rose puttering around on a rascal scooter for the last three seasons due to tearing every ligament in his body. GO BULLS!.
2. Sioux Falls Skyforce vs. 3. Canton Charge
Series tied 0-0
Next Game: Wednesday April 8 at 7:00 pm ET on ESPN U
To state the obvious, this matchup features two teams with alliterative and aggressive names. The Skyforce tallied 29 wins this season. Scotty Hopson, Khem Birch, and Larry Drew II (son of Larry Drew, currently an assistant coach for the Cleveland Cavs) were statistically the best players on the team this year.
The Charge did pretty well this season thanks to strong play from Stephen Holt (
Steve Holt!
), Joe Harris, and Alex Kirk. This team knows how to play in slow motion, boasting the turtle-like pace of 92.3 possessions per 48 minutes. Shit could get real in this series.