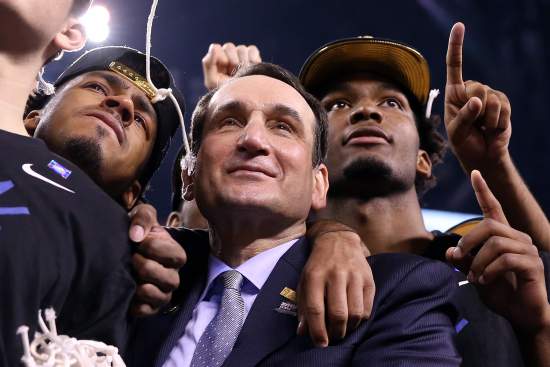 It's been a fun couple of weeks, folks. But it's over, the bad guys Duke won. Again. The bums lost. Your revolution is over, Mr. Lebowski. I jest, I jest. Please don't string me up to a tree and set my house on fire, I wanted Frank Kaminsky and his merry band of companions to win the trophy almost as much as you did, but it didn't happen. The NCAA National Tournament is an important event for NBA fans because it really is the first time their future favorite players have to perform under a shitload of pressure. Some of them may never perform on such a big stage again for the entire duration of their NBA career.
So what have we learned exactly?
Chill out
It's important to remind yourself that the NCAA Tournament is not the NBA. There are 800 players in the tournament (give or take), a couple thousand in the NCAA, and only 60 are chosen to play in the NBA every year. Maybe 70 or 80 if you count a healthy crop of undrafted players and I'm not even factoring the Europeans in. It gives you an idea of the talent gap between the NCAA and the NBA. Only the best survive in the professionals and sometimes they have to accept becoming role players. Even the King himself got excited about Shabazz Napier's tournament run last year, but Napier didn't exactly crack the Miami Heat's rotation, this year. He didn't even take my man Mario Chalmers' job.
I'm sorry to break the news, but Frank Kaminsky isn't the second coming of Tim Duncan. He played remarkably well, but it's not going to translate to 100% translate to the pros. I have no doubt he'll become a valuable player, but don't expect unfair things from him. Same goes for Duke's clutch point guard Tyus Jones. He's a skilled player, but he's tinier and less athletic than Shabazz Napier was, last year. It would be unfair not to assume that he's going to struggle in the athletic utopia that is the NBA.
Frank Kaminsky though, can ball
When May and the NBA Draft Combine comes, the scouting brass and the media's resident draft nerds are going to berate Frank Kaminsky for having a short wingspan, not having any hops whatsoever, having a "low ceiling", so it'll be important to remember this: Frank Kaminsky faced three NBA-ready athletes in the final four, two at once (Willie Cauley-Stein and Karl-Anthony Towns), shut them down, put them in foul trouble and scored on them almost at will. Kaminsky will not be a superstar in the NBA, but he's not the second coming of Spencer Hawes either. He's more of a poor man's Nikola Vucevic with a knack for team defense and leadership intangibles. He's going to be a very satisfying late lottery pick. Maybe even a team will risk a top 10 selection on him. Would Kamisky be the new Staukas?
Don't be mad at Duke, homie
Times are changing in the NCAA. Duke University are still a top program, but they lost the heavyweight belt of recruiting to Kentucky a couple years ago. The unfairly stacked team lost to the underdogs, but it wasn't in the finals. It was a mistake by Bo Ryan to leave Frank Kaminsky on the floor for the entire second half. By the time Jahlil Okafor was back in the game with 5 minutes to go, Kaminsky was burnt out and Okafor bullied him down low, for quick, easy and crucial buckets. Everybody will remember Tyus Jones and Grayson Allen from the finals, but nobody will remember the clutch buckets, but Jahlil Okafor. Most important, nobody will ever remember that Duke University fought and clawed their way to victory because they are Duke and we love to hate them. It doesn't change the fact that they earned their triumph, this year.
Kansas is Burning
Speaking of fallen powerhouses, what the hell is happening with Kansas University? Second straight 2nd round elimination in two years and even worse, I've actually predicted it. This is how strong basketball programs gradually slip into oblivion: Being able to attract five star recruits is fine, but do they actually fit your system? For two consecutive years now, Kansas has recruited the most athletic open court players (Andrew Wiggins and Kelly Oubre), only to stuff them into their slow, suffocating and systematic half-court offense. Not to mention the mysterious eligibility scandal surrounding Cliff Alexander. Last two years have been a disaster for Kansas University and look out for high school recruits to start doubting them for the next couple seasons. Jaylen Brown, Stephen Zimmerman and Thon Maker might just turn them down.
The one-and-done conundrum lives on
Wichita State and Wisconsin both proved that there is merit to continuity, this year. Both squad were virtually unscathed by last year's draft and had more than satisfying runs in this year's tournament. One-and-dones make Missouri senator Claire McCaskill sad. It's going to keep happening though, unless the NBA says otherwise. College is just not the end game for the most talented prospect. Why would a player would leave the prospect of making millions in order to starve for four years and maybe get a degree.
It's just not worth it. Even if a first rounder gets injured after one season in the NBA, he's going to have made more or less the equivalent of what he would've made in 20 years on the job market. That would give them more than enough time to collect the broken shards of their career, get their shit together, go back to school and earn that degree. Kwame Brown has made enough money for a life time, riding the bench and being the butt end of everybody's draft jokes. Foregoing a college education in order to pursue a career in professional sports might seem counter-intuitive, but the math adds up. Whether you think it affects the integrity of college hoops or not, I think one-and-done conundrum will live on.
Will the NBA start drafting players out of high school again? I don't think so. College proves to be a worthwhile in-between for prospects, but you won't see 5 star recruits spend more than a year in the NCAA ever again.