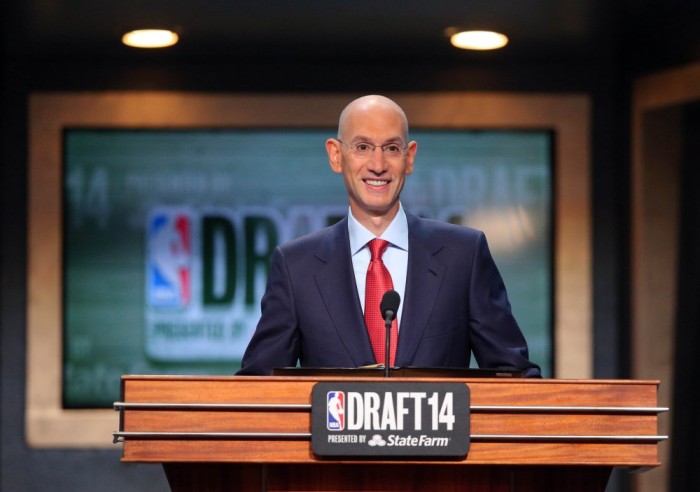 There isn't a nerdier thing in professional sports than entry drafts. It is the one moment of the year where athletic performance leaves the floor to things such as: strategy, asset collection, roster shifts and excited, penniless students wearing ridiculous suits because they're all about to run into an obscene amount of money. I must've done dozens of mock drafts this year, late at night on Real GM's Draft Simulator, studied hours of player footage and mixtapes because I am a dork who secretly dreams to be an NBA front office guy. Here is, my friend, the crowning achievement of my year: a complete, two rounds NBA mock draft based solely on what I think NBA teams should do on the most important non-basketball evening of the NBA calender.
Round 1
1 – Minnesota Timberwolves: Karl-Anthony Towns (C), University of Kentucky, Freshman
This is an easy call to make. Given the promising, athletic roster of the Timberwolves, I don't know how Flip Saunders can fuck that up. While I don't think Karl-Anthony Towns has superstar athleticism or upside, he doesn't have any weaknesses He is a big, physical center in the mold of DeMarcus Cousins who can finish at the rim with authority, rebound, protect the rim and most important, shoot. Andrew Wiggins, Zach LaVine and Ricky Rubio are all excellent finishers, so they need someone who can drag the opposing big away from the rim. The rumour wants that since Flip Saunders is an old school guy, he's enamored with Jahlil Okafor's post game, but Flip's also a savvy basketball mind. The fitting piece here has more potential than the other, so he'll make the obvious choice and Towns will become a the newest member of the Minnesota Timberwolves.
2 – Los Angeles Lakers: Jahlil Okafor (C), Duke University, Freshman
The Lakers are not used to draft that high, so there's a certain level of unpredictability here. Kobe Bryant is on the way out and they need to figure out the next generation of Showtime in Los Angeles so I think they'll give exciting point guard D'Angelo Russell some consideration, but strategically, the money move here is to draft Jahlil Okafor, an old-school center with a smooth scoring touch in the post. They already have Julius Randle, a grinding forward to form a throwback pair with him. The Lakers are always players on the transaction market, so I wouldn't be surprised if they dangled Okafor on the trade market for immediate help, but in both cases they have their bases covered with that pick. If they should trade him, a young, dominant big man is always a wanted commodity. If they want to keep him, he's a great piece to build around although they might eventually trade Randle for a shooting big, in order to adapt to the contemporary reality of the NBA. Don't sleep on the Lakers, the might pull something crazy.
3 – Philadelphia 76ers: D'Angelo Russell (G), Ohio State University, Freshman
The best thing that could've happened to the Philadelphia 76ers during the NBA lottery was to keep their exact spot. It'll allow them to make the right choice for their franchise without jeopardizing their new prospect with unfair expectations. The 76ers already have two young big men who have all-star upside in Nerlens Noel and Joel Embiid, so what they need now is a wing player and, most important, a point guard. There has been some unrest among the 76ers' fanbase since GM Sam Hinkie traded their starting their once rookie of the year starting point guard Michael Carter-Williams for a draft pick he has yet to cash on, so the right move with this pick would be to draft a superior one. Hinkie will give Emmanuel Mudiay a look, but he's ultimately too much like Jrue Holiday, a point guard they sent away for Nerlens Noel and Dario Saric, so Hinkie will opt for the more refined scorer and spectacular passer that is Russell. The 76ers are, according to their plan, supposed to stop sucking this year and with D'Angelo Russell and Joel Embiid on the court, it might just happen.
4 – New York Knicks: Emmanuel Mudiay (PG), Guandong Tigers, International
The Knicks are in such shambles (again) that there might be a lot of things happening here. If they can find a bottom 10 thing willing to flip picks with them in exchange for a point guard, they might trade down and pick second of Tyson Chandler named Willie Cauley-Stein. If Phil Jackson can convince the Denver Nuggets to package wrap them Ty Lawson, this is as good as done. The Knicks are desperate for assets and they won't find some anytime soon after draft night (they have no first round pick until 2017). They need to make it count. If the Knicks can't leverage their pick into anything interesting, they will evaluate the option of picking Justise Winslow and permanently moving Carmelo Anthony to power forward, but I think they'll be looking to give their fans hope and pick Emmanuel Mudiay. The Knicks badly need a point guard, a position that has become more critical than ever in the contemporary NBA. Mudiay is young and raw, but he can already run a pick and roll and get to the rim at will, which will already be an improvement on the Knicks situation. The kid also stated on the record he'd love to play in New York. He's been often unfairly compared to John Wall, but think about him as a compromise between John Wall and Jrue Holiday.
5 – Orlando Magic: Justise Winslow (SF), Duke University, Freshman

For the longest time, I couldn't shake the idea that the Orlando Magic were going to reach and pick Arizona's Stanley Johnson as 5. He just fits their identity so perfectly, it would make sense not to. It could still happen, but given how Johnson has disappeared from pre-draft discussions, it is increasingly more unlikely that it will. The Magic need a wing player that can play on both sides of the floor, shoot and finish at the rim. It's a good way to describe Duke Univesity's Justise Winslow who is the player in the draft the most like Johnson, except it's been told he has a higher developmental ceiling. His combine numbers have alarmed some people (6'4 is very short for a wing player), but it never seemed to bother him in college. Winslow's got a superb motor and the finishing touch the Magic so desperately need to make their lineup come alive because right now, nobody can shoot the freakin' ball except Nikola Vucevic. GM Rob Hennigan is going to opt for the high character kid with the most promise and figure it out from there. Winslow's been compared to a wing version of Dwyane Wade, which I think is unfair. He's more of a Jimmy Butler/Michael Kidd-Gilchrist two-way kind of wing who works for every basket he makes. He'll be a good fit in Orlando and he will make the team better. He's just not a savior.
6 – Sacramento Kings: Mario Hezonja (SF), Barcelona, International
What I am saying here is that the Kings will pick the wrong prospect and that it will be a complete disaster. Don't get me wrong, the Kings could use Hezonja and shuffle Rudy Gay over to power forward in order to maximize the vision of their coach George Karl but I just think the franchise is a bad fit for him. Hezonja's an electrifying player with superstar athleticism, but he's been labeled as difficult in Euroleague. His team has given up on him. He's a seducing thought, and the Sacramento Kings have a rookie decision maker in Vlade Divac who will pick the European kid with promise and I count on Sacramento to screw him up. If you're wondering how it's possible to make messes like Michael Beasley, just observe the career span of Mario Hezonja if he lands in Sacramento. He's a difficult prospect who requires a firm hand, and I'm just not sure if a greedy, inexperienced front office is what he needs in order to bloom.
7 – Denver Nuggets: Kristaps Porzingis (PF), Sevilla, International
The Denver Nuggets have only found success one way in the NBA: by running their opponents off the floor. There is a lot of ridiculous hype around Kristaps Porzingis. Some are calling him the next coming of Dirk Nowitzki. Some are saying he's the reboot of Andrea Bargnani and both are completely false. He's an European shooting big man like these two, but this is where the comparison stops. Porzingis is a very good open floor player who can finish in transition, shoot in the post, shoot from the perimeter. He's not a good defender (at least not yet), but he's much more physical than Bargnani. I believe he would give the Nuggets an interesting high/low game wiht Jusuf Nurkic and his offensive versatility would fit what the team needs, especially if Mike d'Antoni gets the coaching job. It would also allow the Nuggets to make Kenneth Faried available on the trade market and collect more assets for a rebuild. Everybody would be a winner with that pick.
8 – Detroit Pistons: Stanley Johnson (SF), Arizona University, Freshman
The Pistons' most pressing need (and it's been their most pressing need for a while, now) is a quality young wing. They might try and dangle Reggie Jackson to New York in order to try and pick Justise Winslow at 4, but in case negociations fall through, they're going to be more than happy to settle for Stanley Johnson at 8, who tumbled down the ranks of several mock drafts since his poor shooting display during March Madness. What the pre-draft buzz doesn't seem to take into account though is that he's stiff an unusually reliable shooter for a college player, and racked up a respectable 37% from beyond the arc. Johnson has a diesel frame and a maturity beyond his age. He's shorter and not as quick as Kawhi Leonard, but they're similar players and Johnson has a more advanced skill set at the same age. Whether he will receive the same kind of attention as Leonard had in San Antonio, but he could be a steal this low in the top 10. I could see him becoming a 20 points a game two-way player in the right situation.
9 – Charlotte Hornets: Devin Booker (SG), University of Kentucky, Freshman
The pre-draft buzz wants that Devin Booker impressed a lot of teams with his perimeter shooting and it's exactly what the Hornets didn't get from their two main shooting guards last year, Lance Stephenson and Gerald Henderson. Zach Lowe went as far as calling their offense "constipated", last season. In last year's draft, the Hornets went for best player available and it would be Willie Cauley-Stein, but the Hornets are having quite the logjam in the front court and they really should aim for a need, which in their case is pretty critical. They have a big, nasty and physical prospect at this position in P.J Hairston, who can also shoot, but adding Booker on the roster would ease both of their upbringing and make sure there's a spot up threat on the floor at all time. Booker is a very contemporary shooting guard in the sense he doesn't do much more than shoot and defend, but he's reliable at that and the Hornets could use reliable right now.
10 – Miami Heat: Kelly Oubre (SF), Kansas University, Freshman

It's difficult to know what the Miami Heat will do with this draft pick. They weren't expecting to be there (they obviously wanted to make the playoffs), but I'm sure Pat Riley's glad he didn't lose his pick to the Philadelphia 76ers (he would've if the pick fell to 11). The Heat have a couple needs, but I think they will opt for the player with the highest ceiling and bank on their capacity to bring him up, and that player is Kelly Oubre, from Kanas. Oubre didn't have a great season last year in college, but so did Andrew Wiggins and that didn't stop him from showing great improvement in the NBA and winning rookie of the year. Oubre is a terrific athlete, efficient in the open floor and a high flying finisher. He's a streaky shooter and (obviously) a poor fit in a heavy system, but with a little love, I could see him becoming the new face of the Miami Heat. If Oubre can become steadier from the perimeter, he will become a tremendous weapon for the storied franchise.
11 – Indiana Pacers: Willie Cauley-Stein (C), University of Kentucky Junior
Cauley-Stein might really well be gone by the time Indiana's on the clock. New York, Sacramento and possibly Miami will be giving him a serious look. He's not going to fall farther than 11 though, no way. The Pacers said they wanted to play smaller and faster next year, so look for them to unload Roy Hibbert (and maybe get an extra draft pick along the way) and throw themselves at Cauley-Stein who can run the floor like a demon. Not the most versatile player, but think of him a Tyson Chandler type of player.
12 – Utah Jazz: Myles Turner (C/PF), University of Texas, Freshman
The Jazz is in an interesting position for this draft. In all honesty, they could use another point guard because they play Dante Exum in both backcourt sports and that Trey Burke is simply not cutting it as a starter, but they could also deepen their big men rotation and let mad scientist Quin Snyder figure out a whole new world of possibilities. I don' think Texas' Myles Turner is ready to start yet, but Utah's depth could ease him into an NBA role.
13 – Phoenix Suns: Frank Kaminsky (C/PF), Louisville University, Senior
The Phoenix Suns have a good thing going, a young, athletic roster that plays an uptempo game. Their starting center Alex Len is a good defensive player and an athletic finisher, but the Suns could use Frank Kaminsky's versatile offense in order to mix up their lineups and keep the opposing teams guessing. They've been a little bit of a one note song last season and teams that could adjust to their tempo got the best of them. Kaminsky would offer them a wider array of options.
14 – Oklahoma City Thunder: Cameron Payne (PG), Murray State University, Sophomore
The buzz around Payne is strong, nearing the draft. Teams praise his poise, basketball IQ and advanced go-to moves. I've heard rumours saying he could go as high at 4. He injured himself in the workout process though, so I don't expect him to crack the top 10. Oklahoma City is enamored with Payne and promise they would draft him though. They've been desperately looking for someone to man their second unit and Payne can both score and create offense. He's also going to be able to help right away in a limited role.
15 – Atlanta Hawks: Bobby Portis (PF), Arkansas University, Sophomore
The Hawks have traded their first round pick of last year Adreian Payne to Minnesota, Paul Millsap is eligible to a huge payout in free agency, so frontcourt help is a priority. Bobby Portis is an intriguing choice, he's a couple things away from being a David West type player, a multifaceted threat in the post that can occasionally knock a mid-range jumper. It's a best case scenario, of course, but a high character, high energy player such as Portis is worth the gamble.
16 – Boston Celtics: Sam Dekker (F), Louisville University, Junior
Boston's most pressing need is at the wing, where they start Evan Turner, who they also play in two other spots. Dekker is a high profile player who can score the ball and play both forward spots. He's a high IQ guy, tailored for Brad Stevens' intricate offense. Dekker is also a great fit for the Celtic's hard working, gritty culture. He can be used both in big and small lineups. It's an ideal situation for him. I think he could potentially be a dark horse for rookie of the year because he's more than NBA ready
17 – Milwaukee Bucks: R.J Hunter (SG), Georgia State University, Junior
Shooting guard is a quirky position in today's NBA because the contemporary version of that position does only precise stuff: shoot, defend, handle the ball in a pinch. R.J Hunter is a pure shooter. He's not super athletic, he can handle the ball and pass a little. Since Milwaukee may very well lose Khris Middleton on the free agent market this summer, Hunter offers a nice option at shooting guard since he can take over ball-handling duties, it would give them a failsafe option whenever Michael Carter-Williams shits the bed.
18 – Houston Rockets: Jerian Grant (PG), Notre Dame University, Senior
James Harden expressed the desire to have help in the backcourt next season and whatever the Beard wants, goes. Grant is a big guard who can play both spot, score, create and most important, help right away. Patrick Beverly is a great defensive stopper and a leader of man, but he's not help to Harden when the Rockets need to score point and Jerian Grant would. He's a solid player. I don't know if he's an all-star, but he's definitely an offensive upgrade for Houston.
19 – Washington Wizards: Trey Lyles (F), University of Kentucky, Freshman
This is difficult. I really don't know what's in store for Lyles. I really like his talent and I think he could very well be drafted in the top 10, but he's not the most athletic player and teams in the top 10 will be repelled by the idea of drafting a player that might not start. Lyles has tremendous role player potential, though. He's smart, versatile and he's not a liability on defense. 19 is low for him. He's definitely not falling beyond 20. He should be a nice fit in Washington who are looking for options beyond Nene at the 4.
20 – Toronto Raptors: Christian Wood (PF), UNLV, Sophomore
Mark my words. Christian Wood will be picked way higher than any mock draft predicts. It wouldn't even surprise me to see him be picked in the lottery. Not that he's shown anything special in college. In fact, his lackadaisical attitude is probably a red flag, but he oozes with potential. He's athletic, he can shoot from the outside, he's smart, an NBA team is bound to take a chance on him and go all-in trying to teach him how to play basketball. Toronto needs more options at power forward and Wood would make a tremendous understudy to Amir Johnson.
21 – Dallas Mavericks : Delon Wright (PG), Utah University, Senior
Dallas is in a bind at point guard following the Rajon Rondo fiasco and they're bound to do something crazy with that pick. I think they'll bypass the younger and more skilled Tyus Jones to pick the enigmatic Delon Wright, who has size, athleticism and more important, he'd be immediate help.
22 – Chicago Bulls : Rashad Vaughn (SG), UNLV, Freshman
Given that Jimmy Butler might bail in July, I think the Bulls will be proactive and pick an insurance policy to cover their behind. Vaughn is by far not the explosive two way threat Butler has developed into, but he's a standard shooting guard with a sweet stroke. He's a fitting complementary piece next to Derrick Rose.
23- Portland Trail Blazers : Kevon Looney (PF), UCLA, Freshman
Looney's not an easy piece to figure out in any rotation. He can rebound, but he's not very strong for his size and his outside shot is a work-in-progress at best. Portland might not have the luxury of choice though given that their front court might vaporize this summer and need to gamble if they want to stay relevant.
24 – Cleveland Cavaliers : Montrezl Harrell (PF), Louisville University, Junior
Harrell's poor measurement frightened a couple teams at the combine, but he's still an explosive athlete and a high flying finisher. After the tough loss in the finals this year, the Cavaliers will learn their lesson and pick the smaller, quicker front court player to give themselves roster flexibility.
25 – Memphis Grizzlies : Tyus Jones (PG), Duke University, Freshman
Not only Jones is one of the best players available at that point, but it would be an ideal situation for both parties. Jones would thrive and possibly overachieve as Mike Conley's understudy and the Grizzlies would greatly benefit from his playmaking and offensive versatility.
26 – San Antonio Spurs : Chris McCullough (PF), Syracuse University, Freshman
Listen, there is no way the Spurs don't roll the dice on this guy if his ACL is anywhere near healed. McCullough was injured for half the season, but was rumored at a top 10 pick beforehand. It's the kind of pick the Spurs make, nail and make everyone piss blood with. If anybody can turn McCullough into a star, it's them.
27 – Los Angeles Lakers : Justin Anderson (SG/SF), University of Virginia, Junior
Anderson is a good player, I'm just not sure how much he can develop from here. He's a what-you-see-is-what-you-get guy: good athlete, high character guy, potentially an elite defender and a decent stroke from outside. He's a good rotational player and a future leader in the NBA.
28 – Boston Celtics : Robert Upshaw (C), Washington University, Sophomore
Robert Upshaw made a reputation for him as a knucklehead and a junkie in college, but someone is bound to jump the gun on him since his measurements destroyed everybody else's at the combine. The Celtics sorely need the rim protection he could give them and it could give him a sense of purpose.
29 – Brooklyn Nets : Andrew Harrison (PG), University of Kentucky, Sophomore
The Nets need help whenever they can find it, really. They're drafting late this year because of a pick swap from the Joe Johnson trade and might be looking to prepare the departure of Deron Williams, this year. Harrison is a streaky guard, but his size and flashes of potential could give their depressed fans something to dream about.
30 – Golden State Warriors : Jarrell Martin (PF), Louisiana State University, Sophomore
Best case scenario, Martin soaks up David Lee's minutes next year and is brought along slowly. Worst case: Draymond Green follows the money highway somewhere else and Martin is an insurance policy. He's not Draymond but he's a skilled and versatile forward who gives Golden State size and athleticism.
Round 2
31 – Minnesota Timberwolves : Norman Powell (SG), UCLA, Senior
He's not going to blow anybody's mind, but he's a steady, high IQ guard who can be trusted with the ball. He's a depth player, but he has his place with the professionals.
32 – Houston Rockets : Rondae Hollis-Jefferson (SF), Arizona University, Sophomore
RHJ sold himself to NBA teams as a defense only wing. It's not the sexiest thing, but he's a strong athlete and a high character guy that would give Houston some depth.
33 – Boston Celtics : Rakeem Christmas (PF), Syracuse University, Senior
Another long and athletic big that could help right away. Most awesome name in the draft, too. Christmas has shown great improvement at the combine and it's a sign of maturity and desire to succeed. He could surprise and turn into a late steal.
34 – Los Angeles Lakers : George de Paula (PG), Pinheiros, International
The Lakers are bound to stash one of their many choices and I think they could turn the long and athletic de Paula into an intriguing trade asset for next season.
35 – Philadelphia 76ers : Olivier Hanlan (G), Boston College, Junior
The Sixers have five second round picks and why not use one of them to gain depth right behind their first round pick D'Angelo Russell? Hanlan's an intriguing spark plug combo guard off the bench.
36 – Minnesota Timberwolves : Cliff Alexander (PF/C), Kansas University, Freshman
The Wolves have many options at the 4, but none of them are satisfying. Why not use it on Cliff Alexander, who was once seen as the heir apparent of David West? If somebody can figure out how to teach him actual basketball skills, it could turn to be true.
37 – Philadelphia 76ers : Cedi Osman (SF), Anadolu Efes, International
Not sure what the status of Osman is, but he's a teammate of Dario Saric so I'm sure the Sixers have good intel on him and he could turn to be an interesting draft-and-stash option.
38 – Detroit Pistons : Michael Frazier (SG), Florida University, Junior
Stan Van Gundy could always use more shooting. He could use Kentavious Caldwell-Pope at the 3 on small lineups and slip Jodie Meeks or Frazier next to him. A team never has never enough shooting in this NBA.
39 – Charlotte Hornets : Terry Rozier (PG), Louisville University, Sophomore
A lot of teams are going to pass on Rozier because of his small stature and his lack of passing instinct, but the Hornets are deprived in shooting and could use his contribution from the bench.
40 – Miami Heat : J.P Tokoto (SG/SF), North Carolina University, Junior
The post-Dwyane Wade era is more than ever a possibility in Miami and they need to prepare for it. Tokoto is not yet an offensive threat, but he's an intelligent and reliable player.
41 – Brooklyn Nets : Aaron Harrison (SG), University of Kentucky, Sophomore

Did I ever mention that Brooklyn's GM Billy King is not the sharpest knife? If he picks one twin in the first round, there's no way he's not trying to pick the second one if he has a chance. He's like that, Billy.
42 – Utah Jazz : Nikola Radicevic (PG), Sevilla, International
I mentioned Utah were looking for help at point guard in round 1. Radicevic is not immediate help, but even as a draft-and-stash, he offers intrigue with his size and court vision.
43 – Indiana Pacers : Jordan Mickey (PF), Louisiana State University, Sophomore
The scouts are all over the board with Mickey, not knowing what to do with him. I think the Paers won't ask themselves too many questions with him. He's good value and they need to overhaul their aging front court pronto.
44 – Phoenix Suns : Marcus Thornton (PG), William & Mary University, Senior
This pick is based on no other reasons that I love Thornton's glorious dreadlocks and that he's a nutty uptempo game that would suit Phoenix perfectly. They need another point guard in case Brandon Knight bounces. Even if he doesn't get drafted I think he makes it to the NBA.
45 – Boston Celtics : Pat Connaughton (SG), Notre Dame University, Senior
Connaughton has captivated the basketball nerds of America at the combine with his ridiculous white man's hope and his 3 points stroke. He could offer versatility in Brad Stevens' creative lineups.
46 – Milwaukee Bucks : Mouhammadou Jaiteh (C), JSF Nanterre, International
A lot of teams are not patient with European players and pretty chauvinistic dealing with their representatives. Milwaukee can't pass that value in round 2, though. He could become a very good big man and a late steal.
47 – Philadelphia 76ers : Dakari Johnson (C), University of Kentucky, Senior
Johnson is a little bit more sophisticated than Henry Sims down low and offers good value as a career backup. Not a great defensive player, but he has his place on a rotation somewhere.
48 – Oklahoma City Thunder : Jonathan Holmes (F), University of Texas, Senior
The rotation in OKC is a little rickety and in need of fresh bodies. Holmes is a smart, mature player who understands his role and never draws outside the lines. OKC could stash or trade this pick too because they are notoriously cheap.
49 – Washington Wizards : Nikola Milutinov (C), Partizan, International
The back court questions are pretty much sorted out for the next decade in Washington. Milutinov is an interesting international gamble. Someone's bound to take a chance on him based on the fact that he's a 7 footer alone.
50 – Atlanta Hawks : Anthony Brown (SF), Stanford, Senior

Depth is the name of the game for Atlanta, who were humiliated by injuries again, this year. Brown is a wing player that fits their identity.
51 – Orlando Magic : Kiefer Sykes (PG), Green Bay, Senior
The Magic used a ragtag gangs of burnouts on their bench, last year. What do they have to lose giving a chance to fun and explosive kids like Sykes?
52 – Dallas Mavericks : Alexandr Vezenkov (F), Aris, International
I swear to you guys, Dallas doesn't give two shits about this pick. They're going to take this kid and stash him as far as they can in order to save money and then trade his rights for some burnout bench player in two years or something.
53 – Cleveland Cavaliers : Marc Garcia (SG), Manresa, International
Same thing for Cleveland here. They don't have much to gain by adding a body on their bench this late in the draft. Look for them to experiment or simply trade the pick. Garcia's intriguing this late though.
54 – Utah Jazz : Vince Hunter (F), UTEP, Sophomore
I don't know if Hunter can make it in the NBA, but there has been lesser players in the Association in the past. He's a competent big body that's worth a shot late.
55 – San Antonio Spurs : Guillermo Hernangomez (C), Sevilla, International
Hernangomez is enticing, just bringing him over is going to be a lot of work. It might turn down many teams, but not the Spurs. Oh no, sir. They're picking him if he falls this late.
56 – New Orleans Pelicans : Chris Walker (PF), Florida, Sophomore
The Pellies might trade out of the draft altogether, but they also might just pull the trigger on a mystery like Walker, who is an elite athlete but played invisible man in college.
57 – Denver Nuggets : LeBryan Nash (F), Oklahoma State, Senior
Versatile, high character kid. Understands his role. He would be an interesting addition on Denver's bench. They are desperately looking to change their culture.
58 – Philadelphia 76ers : Terran Petteway (SG/SF), Nebraska, Junior
At this point, Petteway is just an asset. He might pan out, he might not. It's a coin toss.
59 – Atlanta Hawks : Andrzejs Pacekniks (C), VEF Riga, International
Stash. Stash. Stash. Trade fodder has more value than borderline prospects at this point in the draft. Smart teams like the Hawks know that.
60 – Philadelphia 76ers : Aaron White (PF), Iowa, Senior
The 76ers could very well stash this pick, but White is an interesting gamble. Very limited, but smart and reliable. He could offer some value. Last pick of 2014's draft Cory Jefferson is actually playing in the NBA right now. White could pull it off too.